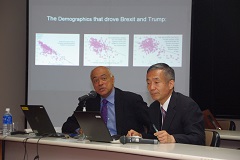 Rohinton P. Medhora, president of the Centre for International Governance Innovation (CIGI), visited the JICA Research Institute on March 6, 2017 to discuss with JICA-RI researchers the changing face of globalization and the role of the G20 countries and think tanks.
CIGI is a think tank focused on international governance, based in Waterloo, Canada. It participated in building the framework of the Think 20 (T20), which provides research-based policy advice to the G20.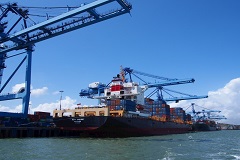 Medhora began by explaining that globalization's contours are changing, referring to the Brexit vote and Donald Trump's victory; this is usually showcased as an antiglobalization movement. Such reverse globalization, however, may not necessarily be alarming, he says. He pointed out that globalization has been unbalanced for long, in that trade has been stagnant, mobility of labor and people has been episodic and frictional, and regulatory and institutional responses have been lagging behind even though capital mobility has been high and strong.
He expressed that developing countries "might rise to the occasion," by participating in rule-setting and institution building and helping design the "global social safety net," among others.
In the Q&A session, JICA-RI researchers asked questions, including how they could make the G20 meaningful in the face of such a situation.