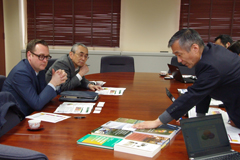 Paul Ladd, director of the United Nations Research Institute for Social Development (UNRISD), visited the JICA Research Institute (JICA-RI) on March 14 and exchanged views with JICA-RI researchers regarding the operation of research projects and other subjects.
The UNRISD, a research institute established in 1963, conducts multidisciplinary research on social development. In recent years, the Institute has defined the following three areas of priority: public policies, gender development and climate change.
The Director and the researchers exchanged individual views on research operations. The discussion focused on managing research projects with limited resources.
Ladd stated that their research coordinators have worked in close tandem with multiple partners, including research institutions in developed countries and counterpart organizations in developing countries.
They agreed to continue communicating with each other through seminars and other events.