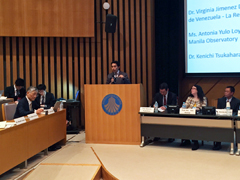 JICA Research Institute (JICA-RI) Research Fellow Oscar A. Gomez participated in the Global Forum on Science and Technology for Disaster Resilience 2017, held from November 23 to 25, 2017, at the Science Council of Japan, headquartered in Tokyo, Japan. With more than 200 participants, the forum was aimed at contributing to the promotion of disaster risk reduction by leveraging science and technology, thereby seeking the steady implementation of the four priorities for action as per the Sendai Framework.
Gomez spoke at a session titled "Priority 2: Strengthening Disaster Risk Governance to Manage Disaster Risk," during which he discussed some challenges to advancing governance from the perspective of international cooperation on the basis of his research findings.

First, Gomez emphasized that national authorities in charge of disasters are usually evaluated on the basis of their performance in emergencies. If they successfully manage emergencies, they gain political momentum for advancing disaster risk reduction (DRR), which is defined as a systematic endeavor to reduce disaster risks through the analysis and reduction of causal factors. Thus, the failure to cater to the requirements in emergencies can compromise the governance plans for the whole DRR effort, he said.

He indicated that as another challenge to effective disaster risk governance, the international system is still fragmented in humanitarian and development aid, which is devised for the supply of assistance, not for its demand. Comparing the case of the 1998 Hurricane Mitch in the Honduras with that of the 2013 Typhoon Yolanda in the Philippines, he argued that a weak local government may end up seeing longer-term commitment by donors for the reconstruction and even DRR, while a capable government may result in the international community ending its support faster, resulting in relief receiving most of the attention. Since this logic seems difficult to turn on its head, affected governments need to develop strategies to buffer international resources gathered for relief so that they can use them for reconstruction or DRR later. 

Last, he underscored the need to invest in nurturing the academic communities required for disaster risk governance, stating that "disaster studies are still an epiphenomenon of traditional academic disciplines." However, he said that while we can improve learning through international exchanges, the process of creating local capabilities cannot be shortcut, thus shedding light on the issue of ways to build communities of research and practice within each country.