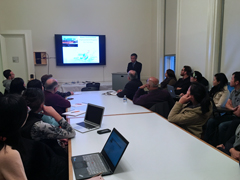 Naohiro Kitano, Director of the JICA Research Institute (JICA-RI), visited the U.S. and Canada on Nov. 28 and 29, 2017, and presented the results of his research on China's foreign aid at Cornell University in New York, and the Centre for International Governance Innovation (CIGI)—one of Canada's leading think tanks. This visit was made possible at the invitation of Professor Ravi Kanbur of Cornell and CIGI President Rohinton P. Medhora. Kanbur is a co-editor of a forthcoming book by joint research collaboration between Columbia University's Initiative for Policy Dialogue (IPD) and JICA-RI.

On the 28th, Kitano gave a lecture entitled "Estimating China's Foreign Aid: New Data" at the Department of City and Regional Planning, Cornell University. The lecture was attended by roughly 40 students, faculty members and others. After introducing JICA and JICA-RI at the beginning, he discussed the actual state of Chinese aid and its future issues based on the latest estimates on China's foreign aid. Active discussion on various topics took place in the Q&A session that followed.
On the 29th, Kitano attended a roundtable discussion held at CIGI. The CIGI is a private Canadian think tank established in 2001. Its research revolves around global governance. It has three research divisions: Global Economy, Global Security & Politics and International Law. An equal collaboration among the CIGI, the University of Waterloo and Wilfrid Laurier University led to the foundation in 2007 of the Balsillie School of International Affairs (BSIA).

About 20 people participated in this roundtable discussion, including CIGI President Medhora, BSIA Director John Ravenhill, Associate Professor Hongying Wang of the University of Waterloo and researchers from the CIGI's three research divisions. The theme of the roundtable was "The Rise of China through the Lens of Foreign Aid and Data." Kitano used the case of the Asian Infrastructure Investment Bank (AIIB) to explain the rise of China seen from the viewpoint of the estimated aid amounts. He raised three points in discussing China's future issues: 1) political risks in borrowing countries, 2) the limited capacity of the aid implementation system, and 3) debt sustainability. The following Q&A session covered a broad range of topics, from the approach taken in China's foreign aid to its actual state.