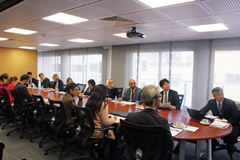 From March 4 to 8, 2018, JICA Research Institute Director Naohiro Kitano and Visiting Fellow Shin Kawashima (Professor, University of Tokyo) visited Morocco as part of activities related to the research project on development cooperation by emerging countries.

Due to the careful response by Morocco's king and national government to the Arab Spring in 2011, the country continues its political stability and steady economic development to this day. The number of Japanese companies entering the Moroccan market has also increased recently, reaching almost 60 companies. Further, Morocco's location has given it a role as a hub and a gateway connecting Europe, the U.S., the Middle East, and Sub-Saharan Africa, and has made it an important country from a geopolitical standpoint. Last year, Morocco became a partner in China's "One Belt One Road Initiative," and Chinese companies are beginning to conduct dynamic activities in Morocco in fields including the development of industrial complexes.
Kitano and Kawashima met with related parties in the capital city Rabat and in Casablanca, and visited the northern port city Tanger, an important manufacturing and export site located on the Mediterranean and Atlantic coasts. They also toured Tanger Med Port, the Tanger Free Zone, and the planned location of development of the new "Tanger Tech City" being developed by a private Moroccan bank and Chinese companies.

On March 7, seminars were also held at JICA's Morocco Office regarding China's foreign aid. Kitano spoke on the current state and challenges of China's foreign aid, utilizing the results of research on the latest estimates on China's foreign aid in his explanation. Kawashima served as a commentator. The first seminar aimed at donor organizations attracted representatives from a UN organization, European and American embassies, development aid organizations and Moroccan research institutes. The second seminar aimed at private businesses attracted personnel from Japanese embassy in Morocco, JETRO Rabat Office and Japanese companies. The high interest in China's direction in Morocco was evident.