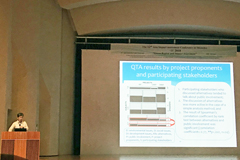 Tetsuya Kamijo form the JICA Research Institute attended the 12th Asia Impact Assessment Conference in Shizuoka, Japan, from August 20 to 22, 2018. He presented one of his researches results. The conference comprised 51 oral presentations and 37 poster presentations, with about 150 participants from 10 countries, including scholars and practitioners.

Kamijo spoke of the positive correlation between the discussion of alternatives and a sense of public involvement, based on the results of a quantitative text analysis of the minutes of meetings of three JICA projects: (1) the airport project in Guatemala, (2) the road project in the Philippines, and (3) the bridge project in Cambodia. He made comments that public was more likely to comment on alternatives when a simple method of alternatives analysis was used, and stakeholders, who discussed alternatives, showed a high sense of public involvement. He concluded that a simple method has the potential to activate a discussion of alternatives and could lead to improved public involvement.

During a subsequent Q&A session, audience members asked questions regarding the number of alternatives, an alternative without a project (no action alternative), and the manner in which public consultation was conducted. He answered to these questions, stating that the public was more likely to comment on a case with a large number of alternatives, that no action alternative and other alternatives were not compared in the analysis, and that the public consultation was conducted at an accessible location for half a day. Representatives from the JICA Credit Risk Analysis and Environmental Review Department also presented the results of monitoring and coral offset. Outreach activities that presented research results and networking with scholars and practitioners were all promoted through this presentation.