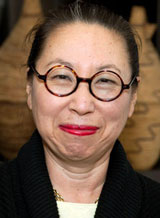 Sakiko Fukuda-Parr, a distinguished fellow at the JICA Research Institute (JICA-RI) and professor in The New School's Graduate Programs in International Affairs, has won an award for ideas set forth in her book, "Fulfilling Social and Economic Rights," co-authored by Terra Lawson-Remer, a fellow in Stanford University's Center for Advanced Study in the Behavioral Sciences, and Susan Randolph, an associate professor emerita of economics at the University of Connecticut.

The trio were presented with the University of Louisville Grawemeyer Award for Ideas Improving World Order. This award is presented annually to those who have taken on issues of world importance and showcased outstanding ideas for improving world order. Recipients of the 2019 award were announced in Dec. 2018.

The awarded book, published in 2015 by Oxford University Press, presents an innovative framework designed to enhance states' guarantee of human rights, offering a method for measuring how well nations are meeting their citizens' basic needs, such as food, health, education, housing, work, and well-being.

In 2016, the book also received the American Political Science Association's Human Rights Section Best Book Award.

Related Links
YouTube
Interview: 'Distinctive characteristics of Japanese aid' with Sakiko Fukuda-Parr, the New School