The year 2019 is a landmark year for Japan and African development—Japan will host TICAD 7 in August following the G20 Osaka Summit in June 2019.
In order to discuss priority issues for African development, the Institute for Global Dialogue, a foreign policy think tank in the Republic of South Africa, and the University of South Africa co-hosted a symposium titled "The G20 Osaka Summit: Japan's delicate balancing of diplomacy-led and development-led engagement" in Pretoria, South Africa, on July 24, where Ryosuke Nakata, chief economist of JICA, participated as a panelist.
Various policy issues, including the SDGs, trade and investment, digital taxation, climate change and demographic challenges, were discussed at the G20 Osaka Summit. They are all urgent policy issues for not only developed countries but also developing ones. At the same time, there are certain differences between advanced economies and developing countries on concrete issues and policy measures. Amid heightened international tensions including the U.S.-China trade conflict, many African countries are closely watching Japan's diplomatic efforts to coordinate the G20 leaders in agreeing on issues affecting African development and to lead to development initiatives during TICAD7.

In this respect, this symposium explored policy priorities at the G20 Osaka Summit and TICAD 7 in a seamless framework with panelists both from Japan and Africa—Norio Maruyama, ambassador of Japan to South Africa, Elizabeth Sidiropoulos, chief executive, South African Institute for International Affairs, George Kararach, lead economist, African Development Bank, Faith Mabera, senior researcher, IGD, and Nakata. Sidiropoulos, Kararach, Mabera and Nakata are all members of T20 Japan.
Ambassador Maruyama discussed technological innovation as one of the cross-cutting themes of the G20 summit, and also discussed comprehensively the G20 agreements, commenting that the Government of Japan led the G20 leaders to consensus on an actionable policy agenda by focusing on common issues rather than differences among G20 countries. Sidiropoulos raised the agreement on the Osaka track for data governance, the advancement of discussion on international taxation, and the agreement on the World Trade Organization (WTO) reform, among other topics, as notable achievements, while calling for a larger presence of African countries in the international policy dialogue in order to mainstream urgent policy issues for Africa. Kararach discussed trade integration, social inclusion and infrastructure finance as common issues against different policy circumstances facing each African country.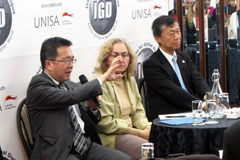 Nakata raised the issues of quality infrastructure and debt sustainability as mutually dependent issues in order for African countries to achieve the SDGs among the various policy issues discussed at the G20 summit. Given that further room for improvement of poverty indicators is limited in East Asia, where their substantial advancement led to the success of the MDGs, successful development in Africa is indispensable to achieving the SDGs. Nakata discussed the need to mobilize financing for vast development needs without causing macroeconomic instability by maintaining high economic growth, domestic resource mobilization and private sector financing. He further stressed the need to raise the quality of infrastructure to improve spending effectiveness, as well as the appropriate mix of financing sources.
Following the summary of discussions by Mabera, the panelists and the audience discussed the monitoring and evaluation of development programs, the coordination in policy dialogues among the government, think tanks and civil society, and the prioritization of numerous policy issues, among other topics.
At TICAD 7, many side events are also programmed to discuss various policy issues with policymakers, development practitioners, civil society members and academics, including from African countries. Through such processes, priority issues and new intervention policies for African development will be discussed and examined, improving development effectiveness.
External Link