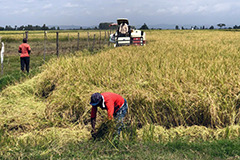 The JICA Ogata Sadako Research Institute for Peace and Development publishes working papers on the results of its research projects intending to stimulate active discussion. In March 2021, the Institute published Working Paper No. 220.

Working Paper No. 220, "An Inquiry into the Process of Upgrading Rice Milling Service: The Case of Mwea Irrigation Scheme in Kenya," written by Mano Yukichi, Timothy Njagi Njeru, and Otsuka Keijiro, is based on the results of the research project "An empirical analysis on expanding rice production in SubSahara Africa." This paper studies the development process of a rice milling cluster in the largest rice production area in Kenya, where entrepreneurial rice millers adopted improved milling machines to enhance the quality of milled rice.

The working paper can be viewed via the following link.