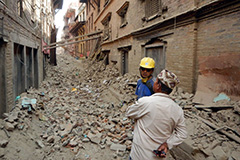 The JICA Ogata Sadako Research Institute for Peace and Development publishes field reports written by those engaged in JICA's operation as a platform for presenting findings and insights gleaned from experience and knowledge of collaborative development operations, including factor analyses of our projects.

In May 2021, the Institute published Field Report No. 5 entitled "Practical Approaches to Build Back Better with Inclusive Recovery from Earthquake Disasters: Discussion Based on the 2015 Nepal Earthquake Recovery Project by JICA."

"Build Back Better (BBB)" is one of the priority actions in the Sendai Framework for Disaster Risk Reduction, which was adopted in 2015. However, the emerging concept of "Inclusive Recovery (IR)" is gaining increased attention in the global arena despite the lack of formulation for the consensus on the detailed requirements of BBB.

This paper proposes a practical coherence between BBB and IR. It refers to the actual practices that JICA conducted in the Emergency Housing Reconstruction Project in the aftermath of the 2015 Nepal Earthquake to clarify the logical relationship between BBB and IR.

Click the link below to read the full paper.