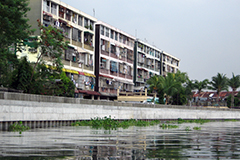 The JICA Ogata Sadako Research Institute for Peace and Development publishes working papers on the results of its research projects intending to stimulate active discussion. In May 2021, the Institute published Working Paper No. 221.

The paper entitled "Investments in Flood Protection: Trends in Flood Damage and Protection in Growing Asian Economies," which was written by Ishiwatari Mikio and Sasaki Daisuke, is based on the results of the research project "Research on Demand Estimate on Infrastructure in Asia." It assesses policies toward flood protection by empirically analyzing flood damage and investment in flood protection measures in Asian economies.

The working paper can be accessed via the following link.