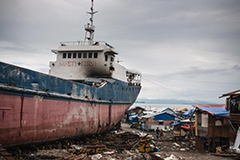 The paper entitled, "Reflecting on Climate-Induced Migration as a Human Security Issue: An Internally-Displaced-Person-Centered Approach to Understanding Displacement," is written by Lisette R. Robles, a research fellow at the JICA Ogata Sadako Research Institute for Peace and Development. The paper was published online in the Journal of Human Security Studies in June 2021.

The author claims that internally displaced persons (IDPs) belong to groups that are most vulnerable to potential future crises, as they have limited options to move to safer locations. Thus, the need to focus on IDPs at the core of addressing environmentally driven, forced migration arises as a human security issue.

Based on a case study of IDPs affected by Typhoon Haiyan (2013) in the Philippines, this paper combines the concepts of environmental migration, internal displacement, and human security. Further, it argues for the effective realization of protection strategies and empowerment initiatives to ensure the comprehensive and sustainable recovery of IDPs.

Click the link below for more information.