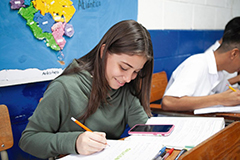 The JICA Ogata Sadako Research Institute for Peace and Development publishes working papers on the results of its research projects intending to stimulate active discussion. In July 2021, the Institute published Working Paper No. 222.

Working Paper No. 222, "Strengthening Teacher Support for Students to Improve Math Learning: Empirical Evidence on A Structured Pedagogy Program in El Salvador" was written by Maruyama Takao. This paper investigates the impact of additional components in a structured pedagogy program that tried to strengthen support of teachers to improve student math learning at the lower secondary level in El Salvador through a randomized controlled trial.

The working paper can be viewed via the following link.