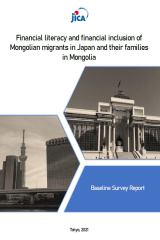 The JICA Ogata Sadako Research Institute for Peace and Development released a baseline survey report "Financial Literacy and Financial Inclusion of Mongolian Migrants in Japan and their Families in Mongolia" in June 2021.

The report analyses the main results of a baseline survey on financial literacy of Mongolian migrants in Japan and their families who remained behind in Mongolia. The report analyzes remittances, financial literacy, and financial inclusion.

Click the link below for more information.