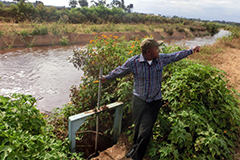 The JICA Ogata Sadako Research Institute for Peace and Development publishes working papers on the results of its research projects intending to stimulate active discussion. In August 2021, the Institute published Working Paper No. 223.

Working Paper No. 223, "Evaluating the Robustness of Project Performance Under Deep Uncertainty of Climate Change: A Case Study of Irrigation Development in Kenya" was written by Narita Daiju, Sato Ichiro, Ogawada Daikichi and Matsumura Akiko. As a case study of the evaluation of adaptation benefits under the uncertainty of climate change, this paper evaluates the robustness of the project performance of a Kenyan irrigation development project.

The working paper can be viewed via the following link.