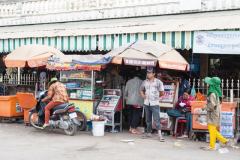 The JICA Ogata Sadako Research Institute for Peace and Development publishes working papers on the results of its research projects intending to stimulate active discussion. In October 2021, the Institute published Working Paper No. 224.

Working Paper No. 224, "Impact of Interest Rate Cap Policies on the Lending Behavior of Microfinance Institutions: Evidence from Millions of Observations in the Credit Registry Database" was written by Aiba Daiju, Sovannroeun Samreth,
Sothearoath Oeur, and Vanndy Vat.

In April 2017, the Cambodian central bank introduced an interest rate cap policy relating to lending by microfinance institutions (MFIs). There were concerns about the negative effects the policy may have on outreach efforts by MFIs. This paper explores the impact of the interest rate cap on MFIs, by accessing granular data from the credit registry database in Cambodia.

The working paper can be viewed via the following link.