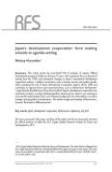 The paper entitled "Japan's Development Cooperation: From Making Amends to Agenda-Setting" is written by Nikolay Murashkin, a research fellow at the JICA Ogata Sadako Research Institute for Peace and Development. The paper was published in a special issue on Official Development Assistance (ODA) by Revista de Fomento Social, a scientific publication of Universidad Loyola in October 2021.

This study examines the evolution of Japan's ODA over the past 75 years and focuses on the period from the 1980s, in particular. It addresses human security and quality growth, which served as the cornerstones for Japan's international development cooperation. Furthermore, it investigates the shifts and continuities in regional visions and sectoral priorities, such as infrastructure development, and the role of the Japan International Cooperation Agency (JICA).

Click the link below for more information.