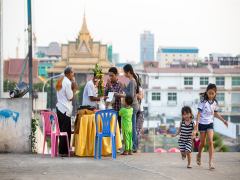 The paper entitled "The Cost Efficiency of Cambodian Commercial Banks: A Stochastic Frontier Analysis" is written by Research Fellow Aiba Daiju and Visiting Fellow Okuda Hidenobu of the JICA Ogata Sadako Research Institute for Peace and Development. The paper was published online by the Singapore Economic Review in October 2021.

In recent decades, the Cambodian banking sector has rapidly expanded in line with the country's sustained high levels of economic growth. However, concerns have emerged about the performance of banks and the banking sector of the country. Moreover, the scarcity in empirical evidence for clarifying the real issues in the banking sector makes it difficult to formulate effective policy measures to address potential problems. This study provides empirical evidence by estimating the cost function and efficiencies of 34 commercial banks from 2012 to 2015.

The paper can be accessed via the following link.