On Dec. 16, 2021, the JICA Ogata Sadako Research Institute for Peace and Development (JICA Ogata Research Institute) held the launching event for the "Research on Resilience, Peacebuilding, and Preventing Violent Extremism: A Complex Systems Perspective on Sustaining Peace", hosting its First Author's Meeting. This project was launched on July 1, 2021, with the goal of examining international cooperation for sustaining peace in contexts affected by both traditional armed conflicts and violent extremism. Specifically, the research aims to explore the nexus between resilience, peacebuilding, and preventing violent extremism (PVE), developing a theory and a framework of resilience in local societies to effectively assist the design and implementation of peace interventions.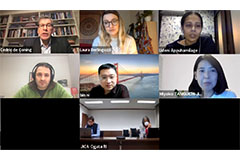 The participants gathered virtually due to the COVID-19 pandemic and introduced their case studies for the project. The focus of the research addresses resilience, peacebuilding and preventing violent extremism in Africa, the Middle East and Southeast Asia. Specifically, the presented contents featured insights on complexity theory and adaptive peacebuilding, non-state armed groups and community-embedded prevention, the role of the state, gender perspectives, the environment, poverty and unemployment, health and psychology, and the role of development agencies in preventing violent extremism. The workshop also included comments from the project advisor, Cedric de Coning, who provided feedback to the authors for further developments in their research.
de Coning, research professor at the Norwegian Institute of International Affairs (NUPI), initiated the session by analysing the linkage between resilience, peacebuilding, and preventing violent extremism in complex social systems. In this presentation, de Coning introduced concepts that will guide the project, turning to complexity theory to develop an analytical framework that can help contributors consider the various dimensions (political, economic, environmental, and others) at play in their case studies. Similarly, the presentation considered insights into the role of adaptive capacity in the resilience of complex systems. Complexity Theory suggests that complex social-ecological systems are inherently dynamic, non-linear and emergent, and therefore unpredictable. In order to cope with this uncertainty, de Coning proposed a specific methodology for sustaining peace in complex systems, namely adaptive peacebuilding.
Rui Saraiva, research fellow at JICA Ogata Research Institute analysed community-embedded prevention of violent extremism in Cabo Delgado, Mozambique. The Cabo Delgado province has been affected by violent extremism since October 2017, when an insurgency erupted due to social and economic grievances, religious intolerance, and dissatisfaction with state authorities. While private security companies and international partners have joined the conflict to assist the Mozambican government, Maputo's responses have focused on hard security approaches. Saraiva's research explores an alternative approach to address violent extremism in Cabo Delgado and suggests that local community institutions – both faith-based and those focused on sustainable development – are essential to building resilience locally. Accordingly, his research explores a holistic approach linking resilience and community-embedded prevention to help local communities in Cabo Delgado deal with related threats.
Muto Ako, executive senior research fellow at JICA Ogata Research Institute, addressed the role of the state and sovereignty in preventing violent extremism in Syria. Specifically, the presentation analysed the issue of spaces governed by armed non-state actors in Syria within which ISIL operates, where state sovereignty has been temporarily lost. The presence of ISIL's violent extremism in these territories has created a form of repressive "non-state authority" that has been internationally condemned. Muto notes that responses to this threat have consisted of hard-security approaches, where several international actors had been intervening with different levels of involvement. However, strategies based on preventing violent extremism remain unexplored both in theory and practice. The research seeks to address that gap and explore state sovereignty in developing resilient and innovative preventive strategies in a complex systems approach.
Laura Berlingozzi, a postdoctoral researcher at the Sant'Anna School of Advanced Studies in Pisa, Italy, presented her contribution on gender, resilience and preventing and countering violent extremism in Mali. In the last decade, the Sahel region has witnessed multifaceted challenges, such as illicit migration, drug trafficking, and rise in the expansion of jihadist insurgencies. Claiming that Mali is at the center of these phenomena, Berlingozzi noted that gender has become a central in preventing and countering violent extremism programs funded by international actors. Her research investigates how local actors tasked with resilience and prevention of violent extremism navigate this context: first, it reflects the framings of resilience, violent extremism and peacebuilding from a gender perspective; second, it investigates local perceptions in this domain, highlighting gender-related impacts. Through this approach, the research seeks to establish a discussion between civil-society agency and the implementation of humanitarian, development and peacebuilding responses.
Ni Bin, associate professor at Hosei University, introduced a political economy perspective through poverty and unemployment and its impact on the rise of violent extremism in complex systems. Ni's presentation explored the idea that violent extremism is a phenomenon that significantly impacts the African continent, a reality that admittedly calls for solid empirical and analytical attention. His research proposes an empirical examination of African countries searching for the socio-economic causes of violent extremism, including conventional determinants in economics and politics. In order to do so, the study takes advantage of datasets retrieved from The Armed Conflict Location & Event Data Project (ACLED). Ni's approach includes a standard binomial regression model and turns to the first-different Generalized Method of Moments (GMM) to mitigate the potential endogeneity caused by reverse causality.
Florian Krampe, director of the Climate Change and Risk Programme at the Stockholm International Peace Research Institute (SIPRI) and specially appointed professor, Network for Education and Research on Peace and Sustainability, Hiroshima University, examined the topic of environmental peacebuilding and the prevention of violent extremism in complex systems. The background idea of his study is that the impact of climate change on societies is increasingly affecting security landscapes. Such reality also involves violent extremism through the typical pathways to extremist recruitment. In connection to that, the presentation defined environmental peacebuilding as a conflict-sensitive and sustainable management of renewable natural resources in conflict-affected or post-conflict states that support sustainable and resilient peace. Focusing on the social, economic and political conditions for peace and how environmental politics and management can strengthen these, Krampe's research looks at connecting scholarly research agendas to actionable development and peacebuilding processes, seeking at the same time concrete, policy-relevant evidence of that nexus.
Udeni Appuhamilage, adjunct faculty at the Tokyo University of Foreign Studies, introduced her study about the nexus between communal anxiety and resilience in Sri Lanka's local approaches to peacebuilding amidst violent extremism threats. Her research questions the complex psychological impacts of violent extremism on the communal mindset, and how such psychological impact is navigated in the local context to build resilience and alternative interventions to address violent extremism. Specifically, the study looks at three case studies of local civilian movements: the Survivors of Easter Attack group, the Aluthgama group and the Kaththankudi Harmony Center. Appuhamilage's presentation noted that while anxiety can be debilitating and silencing, her study may reveal how anxiety can also foster resilience and help civilians to creatively build alternative approaches to cope with the threat of violent extremism. Furthermore, the study aims to discuss how to translate the said alternative interventions to build effective policies that will help to build sustainable peace in contexts affected by violent extremism.
Taniguchi Miyoko, senior advisor at the Japan International Cooperation Agency (JICA), discussed the role of development agencies in fostering resilience and preventing violent extremism in complex systems. By looking at Mindanao in the Philippines, her study examines resilience according to peacebuilding and prevention of violent extremism, proposing a practical approach through the development perspective. Taniguchi noted that Mindanao is among the most complex and protracted conflicts worldwide, making it a suitable case for solutions that go beyond hard-line and counter-terrorism methods. The presentation also suggested that despite the growing importance of preventing violent extremism through soft-line development and peacebuilding, little research has examined the complementarity between these areas. Therefore, her research seeks to cover that gap and contribute to a better understanding of the role of development agencies in promoting resilience, surveying its potentialities and limitations.

The session concluded with a feedback round by the project advisor, de Coning, who provided valuable comments to all presentations and acknowledged their significant contributions to the project. He noted that the geographical spread of the proposed chapters – Africa, Asia, Middle East, Asia – and the thematic diversity of the covered topics could contribute to the existing literature in novel and relevant ways. de Coning encouraged the authors to pursue the resilience-oriented framework to analyse conflict in complex systems in order to devise innovative solutions in both theory and practice. He concluded by highlighting the potential of this project to enhance further collaboration between scholars and practitioners working in the field of peace and development.