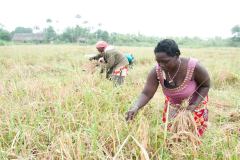 The JICA Ogata Sadako Research Institute for Peace and Development publishes working papers on the results of its research projects intending to stimulate active discussion. In December 2021, the Institute published Working Paper No. 226.

Working Paper No. 226, "The Importance of Farm Management Training for the African Rice Green Revolution: Experimental Evidence from Rainfed Lowland Areas in Mozambique" was written by Kajisa Kei and Trang Thu Vu. This study evaluates a randomized controlled trial of training in basic farm management practices in rainfed lowland areas of Mozambique.

The working paper can be viewed via the following link.