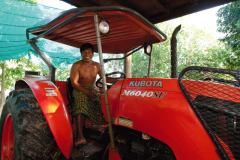 The JICA Ogata Sadako Research Institute for Peace and Development publishes working papers on the results of its research projects intending to stimulate active discussion. In December 2021, the Institute published Working Paper No. 227.

Working Paper No. 227, "Gender Income Gap Among Cambodian Farmers: The Effects of Formal Credit Usage" was written by Vichet Sam of the National Bank of Cambodia (NBC). This study analyzes the determinants of the gender income gap among farmers in Cambodia, with a focus on the role of formal credit usage.

The working paper can be viewed via the following link.