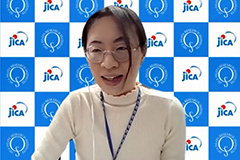 On Feb. 16, 2022, the third online lecture of "Migration History and Multicultural Understanding in Japan: Understanding 'Others' from Historical Perspectives" was jointly held by JICA Ogata Sadako Research Institute for Peace and Development (JICA Ogata Research Institute) and the Japanese Overseas Migration Museum at JICA Yokohama Center. This series of six lectures was held as part of JICA Ogata Research Institute's project "Study on the International Migration and Networks of Japanese Descendants between Japan and Latin America." For this third lecture, Nagamura Yukako, research fellow at JICA Ogata Research Institute, served as the moderator, and Yamazaki Satoru, Graduate School of Social Sciences, Hitotsubashi University, who is a research fellow (DC) of the Japan Society for the Promotion of Science, gave a talk under the theme "Listening to the Voices of the Second- and Third-Generation Returnees from China: After the Era of the Return of Those Displaced in China."
Many Japanese people who had moved to China before World War II were unable to return after Japan's surrender, and many children and women remained displaced in China. The issue of the "returnee from China" including these children and women is almost forgotten in Japanese society today. Yamazaki opened his talk with an example of how the issue is now fading into oblivion even among the third generation, whose grandparents were once displaced children or women. At the end of 2021, Yamazaki was surprised to be asked what "Daichi no Ko" is by a 23-year-old third generation during an interview survey. Daichi no Ko is a TV drama series based on a novel by Yamasaki Toyoko about a Japanese child left in China, whose life is full of ups and downs. It was aired by Nippon Hoso Kyokai (NHK), Japan's national broadcasting corporation, in 1995 and became greatly popular. Our speaker of the day, Yamazaki, felt that how a descendant of the displaced children does not recognize this TV series shows that so much time has gone past. The media and publications have often used the phrase "the displaced children today" but from which point in time is "today" actually today? Isn't it "today" from the perspectives of media reports from the 1980s in which Japanese children and women who remained in China began to be widely reported in the Japanese media? Yamazaki raised such questions and talked about the various situations confronted within society by members of the second and third generations when fewer and fewer people remember World War II and the returnees from China.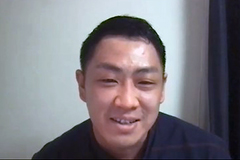 Next, Yamazaki looked back at the history of the returnees from China. The first repatriation project from Manchuria to Japan took place between 1946 and 1948, and after a temporary suspension, between 1953 and 1958. In 1958, repatriation was deemed as having been completed and travel between the two countries became no longer possible. A year later, in 1959, those who had not returned to Japan at this point were declared to have died during the war, under the Act on Special Measures to Unrepatriated Persons. He then explained that in areas from where groups of pioneers were sent to Manchuria, their past connection with Manchuria was regarded taboo and gradually became forgotten by Japanese society. However, in 1973, a year after the 1972 restoration of diplomatic relations between Japan and China, non-governmental efforts to search for those left in the area that used to be Manchuria started. From 1975, the Ministry of Health and Welfare (now the Ministry of Health, Labour and Welfare [MHLW]) started a public investigation. In 1981, those displaced came to Japan and an investigation to search for families and relatives started. Yamazaki pointed out that in the history of the returnees from China, the media played a great role in moving the government by swaying public opinion, as was the case when some of those displaced in China appeared in an NHK TV show and called out to their families and relatives. The tide turned, however, when they filed a lawsuit against the Japanese government and claimed for compensation, which was initiated in 2002 and lasted until 2007. 90% of the formerly displaced who came back to Japan joined the plaintiff and sued the government for violating their rights to live as Japanese citizens with dignity. They claimed that the government showed a dereliction of duty to enable those displaced to return to Japan as early as possible and provide support for them to be able to live independently upon return. As a result, the Amended Act on Measures on Expediting of Smooth Return of Remaining Japanese in China and for Assistance in Self-Support after Permanent Return to Japan, which states that full amounts of the Old-age Basic Pension should be given to the formerly displaced, came into effect in 2008. The lawsuit was at least politically settled. By presenting data, Yamazaki showed how this incident significantly lessened media coverage from the 2010s on the children and women once displaced in China.

Latest statistics of MHLW show that the number of people who returned from China with public funding is around 20,000. However, when those who were brought over to Japan by private funding and those who were born in Japan are added, this number is said to go up to somewhere between 80,000 and 150,000. For these people, what do their roots in children and women once displaced in China mean? Yamazaki shared the insight he gained through interview surveys on members of the second and third generation. For instance, many members of the second generation were born in China and arrived in Japan with the first generation, that is, their parents. Therefore, they faced many difficulties like being bullied because they were "Chinese" even when they went by their Japanese names or not being able to secure themselves stable jobs. By contrast, the third generation was born in Japan and many of them seem to have blended in Japanese society as "ordinary" Japanese people, and became "invisible." This is because by the time the Japan-born third generation became adults, the first generation had aged greatly, and on top of that, the timing overlapped with the significant decrease in media coverage on the children and women once displaced in China, making it difficult to pass on the experience of the returnees. Yamazaki shared some examples that highlight reality. An interviewee of the third generation was aware that his grandmother was once displaced in China but did not identify himself as third generation. Another person became certain that his grandmother was once displaced in China, only after starting college. Yamazaki remarked that we can understand through such comments from the third generation that although they faintly know their grandparents were once displaced in China, they did not know of any words that could categorize the identity of themselves or their families, and had no need to be aware that they are family members of the returnees.

In the Q&A session, there were so many questions that the lecture ran out of time. Question topics included issues around taking care of elderly returnees, support from the Japanese government to members of the second and third generations, networks across the second and third generations, and differences in how members of each generation identify themselves.