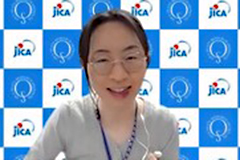 On Feb. 21, 2022, the fourth lecture of the "Migration History and Multicultural Understanding in Japan: Understanding 'Others' from Historical Perspectives" was jointly held online by JICA Ogata Sadako Research Institute for Peace and Development (JICA Ogata Research Institute) and the Japanese Overseas Migration Museum at JICA Yokohama Center. This series of six lectures was held as part of JICA Ogata Research Institute's project "Study on the International Migration and Networks of Japanese Descendants between Japan and Latin America." For this fourth lecture, Nagamura Yukako, research fellow at JICA Ogata Research Institute, served as the moderator, and Murakumo Kazumi, Graduate School of Business Sciences, Humanities and Social Sciences, University of Tsukuba, who is a research fellow (DC) of the Japan Society for the Promotion of Science, gave a talk under the theme "The Story of Indonesian EPA Nurses Coming to Japan."
Murakumo focused on Indonesian nurses (candidates for registered nurses in Japan) who came to Japan based on the Economic Partnership Agreement (EPA), which was concluded between Japan and Indonesia in 2008, and explained their current situation and challenges. These candidates first enroll in a Japanese language course for one year and then work in Japanese hospitals, aiming to become registered nurses in Japan in three years. Of the 714 candidates who came to Japan by January 2022 under the EPA scheme, 158 passed the national exam but of these, only 24 remain working in Japanese hospitals. The requirements for applicants to the EPA nurse program are rigorous as well, including the need to have at least two years of clinical experience. In reality, the number of applicants is decreasing and the pass rate of EPA candidates for the national exam is low. Murakumo, who was working at the Consulate-General of Japan in Denpasar when the EPA scheme was encouraging Indonesian candidates to come to Japan, wants to know what became of them and is conducting interview surveys in the two countries. Now that more than a decade passed since the start of the scheme and with great changes in the roles of hospitals caused by the COVID-19 pandemic, Murakumo raised the question of how to solve the challenges that have become clear through the course of accepting these "EPA nurses" (i.e., Indonesians who became registered nurses in Japan under the EPA scheme).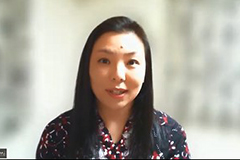 Murakumo then shared example cases of two EPA nurses who work in Japanese hospitals, while touching on actual stories of their lives including what brought them to Japan, their workstyle in Japan, career development and life plans. One of these interviewees said that she was told that she would be able to start working as a registered nurse straightaway in Japan and was surprised to hear after arrival that she would have to study Japanese and sit a national exam. One reason for this misinformation is that she participated in the EPA scheme right after its launch when there was confusion with available information. Fortunately, she was still able to pass the exam after three years, thanks to a workplace with a supportive system. However, she said that the majority of candidates who came to Japan together could not pass the exam and had to return to Indonesia. She returned to Indonesia once to work as an interpreter for a Japanese company, but came back to Japan and is now working in a hospital here. The other interviewee became a licensed practical nurse and moved to a different hospital where many Indonesians who became EPA nurses work. He then successfully passed the national exam and became a registered nurse. He told Murakumo about his wish to develop his career in Japan. He wants his family to receive education in Japan as well.

Murakumo pointed out various barriers that became visible from the stories of these two nurses. The first is the language barrier. A Japanese language course is part of the nurse acceptance program, and of course standard Japanese is used in all trainings and in the national exam. However, in hospitals in rural parts of Japan, it would be impossible to work unless you understand local dialects. Here, you have the complicated challenge of being required practical Japanese that is different from standard Japanese. Furthermore, the support systems and working conditions greatly differ among hospitals accepting them. Moreover, if a candidate returns to Indonesia after failing to pass the national exam, or because he/she does not get a job in Japan although he/she passes, the duration of stay in Japan would only be seen as a career hiatus. Even if these candidates would like to work as nurses in Indonesia again, they would have to rebuild their career from scratch and as a result, many of them end up in different careers.

As a solution for these challenges, Murakumo shared one hospital's case as an example. In this hospital, there is a system that makes Indonesian nurses always work in pairs with Japanese nurses, so when an Indonesian cannot understand something in Japanese when communicating with colleagues or patients, his/her Japanese pair can attentively help; as candidates can perform some healthcare treatments in Japan if they become licensed practical nurses, the hospital makes them first take the exam to become a licensed practical nurse and then prepare for the national exam needed to become a registered nurse; and the hospital limits their workhours to mornings and makes an environment that lets them study in the afternoons. Murakumo said that efforts in which hospitals work on human capacity development with a view to secure precious workforce and aim to provide healthcare services that are responsive to all patients' needs have the potential to become a model framework for EPA nurses to successfully work in Japan. She also said that she would like to encourage relevant Japanese ministries to work toward the issuance of employment certificates from the government so that candidates can develop their careers after going back to Indonesia.

In the Q&A session, questions on various topics came from the floor, including those on the structure of hospitals accepting the candidates, reasons Indonesian nurses returned to their hometowns, how the Indonesian government sees the EPA scheme, and collaboration between Japanese ministries. The lecture reminded us that challenges around EPA nurses, who work in essential fields like healthcare and elderly care, are relevant to each and one of us, and not someone else's problem.