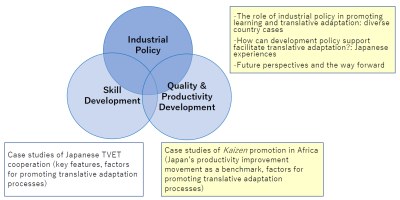 The JICA Ogata Sadako Research Institute for Peace and Development (JICA Ogata Research Institute) published two books in February 2022: "Policy Learning for Industrial Development and the Role of Development Cooperation" and "Promoting Quality and Productivity Improvement/ Kaizen in Africa." These volumes describe some of the outcomes of the "Research Project on the Japanese Experience of Industrial Development and Development Cooperation: Analysis of Translative Adaptation Processes."

This practical research aims to identify the characteristics of Japan's experiences in industrial development. It also examines the role of development cooperation from three perspectives, i.e., industrial policy, quality and productivity improvement, and skill development. Further, the books serve as valuable reference texts for policymakers, practitioners, researchers in developing countries, and the international community.

The Japanese experiences of modernization involved learning and internalizing Western technologies and knowledge. The Japanese utilized the process of "translative adaptation," which entailed efforts to adapt Western know-how to Japan's indigenous culture and systems. Moreover, Japanese industrial policies tend to focus on real sector components, such as industry structure, human resources, technologies, and firms, which can be viewed as the "ingredients approach." These experiences and perspectives are reflected in Japanese industrial development cooperation efforts.

The two books analyze whether and to what extent Japanese industrial development cooperation has facilitated the translative adaptation process of developing countries. They also examine whether and how this approach may be relevant today when technological innovation and digitalization are rapidly changing the landscape of industrial development.

For more details, please see the pages linked below.