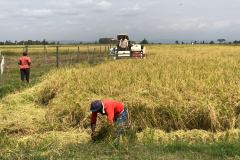 JICA Ogata Sadako Research Institute for Peace and Development publishes working papers on the results of its research projects intending to stimulate active discussion. In March 2022, the Institute published Working Paper No. 230.

Working Paper No. 230, "Risk Management for Smallholder Farmers: An Empirical Study on the Adoption of Weather-Index Crop Insurance in Rural Kenya" was written by Fukumori Keiko, Arai Ayumi and Matsumoto Tomoya. This study examines the determinants of smallholder farmers' adoption of weather-index crop insurance, which is considered to be a promising means of mitigating the negative welfare impacts of crop loss caused by drought or excess rainfall.

The working paper can be viewed via the following link.