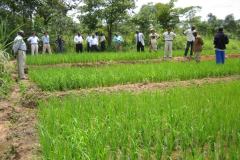 JICA Ogata Sadako Research Institute for Peace and Development has published policy note No. 9 "Toward a Rice Green Revolution in Sub-Saharan Africa." The note was written by Otsuka Keijiro, Mano Yukichi and Takahashi Kazushi as a result of the Institute's research project "An empirical analysis on expanding rice production in Sub Sahara Africa Phase 2."

This policy note attempts to show what needs to be done to realize a rice Green Revolution in Sub-Saharan Africa, based on more than 10 years of empirical inquiries into rice production in selected countries in the region.

The policy note can be viewed via the following link.