Study conducted jointly with Gojo & Company and the JICA Public Private Partnership Division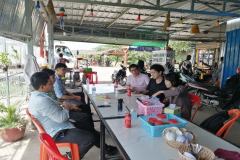 On June 6 and 7, 2022, Research Fellow Aiba Daiju and Visiting Fellow Sovannroeun Samreth (Associate Professor, Saitama University) of JICA Ogata Sadako Research Institute for Peace and Development (JICA Ogata Research Institute) took a business trip to Cambodia to monitor the progress of a study on the effect of financial education through a household accounting book (called "Kakeibo" in Japanese). This study is carried out under the collaboration among the JICA Public Private Partnership Division, JICA Ogata Research Institute, and Gojo & Company, as part of JICA Ogata Research Institute research project, "Study on the Promotion of Financial Inclusion: The Case of Cambodia."
In recent years, given the emerging problem of excessive debt among clients of commercial banks and microfinance institutions in Cambodia, improving financial literacy and developing consumer protection laws has been growing in importance. In addition, since the percentage of households that can borrow money from formal financial institutions remains low, promoting financial inclusion is still a challenge. To respond to these issues, this study was initiated to reveal how keeping an accurate record of income and expenditures using Kakeibo can help improve the financial literacy of households. It also aims to identify factors which cause excessive debt, and to make recommendations to local policy makers and financial practitioners that will help protect consumers.

This study invited households to participate in the program for one year, teaching them about how to keep household accounting using Kakeibo, and requiring them to report their household expenditure records to enumerators on a regular basis. The study will investigate whether keeping a household budget for one year increases household savings, improves management skills of monetary flow, and improves financial literacy. In addition, it will analyze detailed information about household income, expenditures, savings, and loans which can be collected through Kakeibo, and also aims to provide useful insights for the development of financial products by local microfinance institutions and for policy-making by the Cambodian government.


Keeping a record of cash flow also changes behavior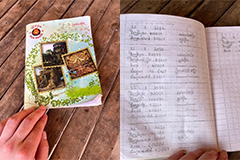 During this monitoring trip, Aiba and Samreth interviewed participants of this study in rural areas of Kampong Cham Province. In addition to assessing the economic situation of the participants and their surrounding environment, the researchers also asked them how they felt about their participation in this program. They received responses such as, "I had never kept a household budget before joining this program, so I kept a detailed record of our entire family's income and expenditures for the first time," "It has become an opportunity for our family members to check our income and expenditures with each other," and "Keeping records has helped me keep track of wasteful spending." They also found some suggestive evidence that keeping a budget may produce a behavioral change. In addition, there were households who responded that they would continue Kakeibo as a regular habit, even after the end of the program. One interesting response came from a man, who said, "I had the impression that keeping records of daily income and expenditures was something women did, but my impression changed when I joined the program, and now I keep recording the income and expenditure, instead of my wife." On the other hand, another respondent stated that she asked her children to record the family income and expenditures, because she was unable to read and write, indicating that some households are facing challenges in keeping a record.

Aiba and his research team are planning to conduct a quantitative analysis to examine to what extent financial education using Kakeibo actually has positive impacts. In this program, based on a method called a randomized controlled trial, households were randomly selected to be invited in the program. Going forward, the researchers will collect additional data on the participant households in this program, as well as those that were not invited, in order to examine the extent of the program's effectiveness.