On July 8, JICA-RI presented research findings to JICA officers at a seminar themed, "From Survival to Growth: Industrial Clusters, Investment Climate, and Micro Enterprises in Africa."
The purpose of the seminar was to provide JICA operations with feedback on the outcomes of the project "African Enterprise Study," conducted jointly by JICA-RI, the World Bank, the Foundation for Advanced Studies on International Development (FASID), and the African Economic Research Consortium (AERC). At the seminar, JICA-RI Research Fellow Megumi Muto and Yutaka Yoshino, World Bank Economist, reported their research findings based on the discussions at the Senior Policy Seminar held this May in Nairobi, Kenya.
JICA-RI Director Keiichi Tsunekawa commenced the event in saying that one year has passed since JICA-RI was established, and since then, it has been producing solid research results. He added his intention to proactively create more opportunities in the future for feedback such as this event. Yoshino then provided an analysis of his findings on the current state of micro and small enterprises in Africa. According to Yoshino, as enterprises in Africa continue to organize into clusters, certain problems become more pronounced such as performance gaps between small and large enterprises, and lack of land space for expansion. To solve those problems, both "soft" and "hard" support are necessary, such as managerial capacity building, support of institutions and policy, and industrial land development, Yoshino believes.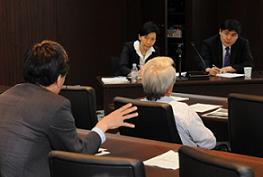 Megumi Muto (left) presenting with Yutaka Yoshino (right). Participants expressed various expectations in providing research outcomes to JICA operations.
From her collaborative study with FASID, Muto spoke on the impact of business skill training on micro and small entrepreneurs in Ghana, Kenya, and Tanzania. Her results suggested that, by learning such skills as basic accounting, process control and marketing, business performance can be improved.
Reflecting on the feedback, JICA Senior Special Advisor Hiroto Arakawa commented that the research findings provide evidence for the synergy effects of JICA's three development schemes: Official Development Assistance Loans, Grant Aid and Technical Cooperation. He added that there is no way JICA would not apply these findings to its operations. Voicing his expectations, the Tokyo International Conference on African Development (TICAD) Promotion Office Director Ichiro Tanbo said that JICA is not simply expected to develop infrastructure, but also to lead employment opportunities and development of industries while encouraging related businesses through its operations. He feels the research results presented at this seminar meet such expectations. Such research can produce synergies within JICA's assistance of cross-border infrastructure and "one-stop border posts," and, through TICAD V planned for 2013, may also contribute to policy messages for achieving trade investment and economic growth, according to Tanbo.
RELATED RESEARCH AREA: Growth and Poverty Reduction
RELATED RESEARCH PROJECT: Empirical Study on Industrial Cluster in Africa, the Role of Space,Infrastructure, Human Resource and Social Capital
| | |
| --- | --- |
| Day | July 08, 2010(Thu) |
| Place | JICA Headquarters |