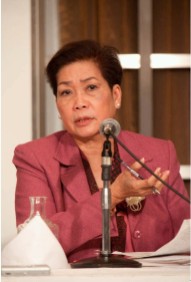 On March 30, 2009, JICA-RI hosted a symposium entitled 'Mainstreaming Human Security in ASEAN Integration.' The event marked the launch of a research project on this topic undertaken jointly by the ASEAN Institute of Strategic and International Studies (ASEAN-ISIS) and JICA-RI. This joint project examines important cross-border issues and regional public goods from the human security perspective and their implications for a people-centered ASEAN. Presentations by participants provided updates on the project's progress.

In opening the symposium, JICA-RI Director Dr. Keiichi Tsunekawa underlined the significance of this ASEAN-JICA research. He explained the critical importance of a strong ASEAN to the stability and prosperity of Asia and affirmed JICA-RI's interest in supporting the various aspects of ASEAN integration. In the keynote address, Dr. Carolina G. Hernandez, President of the Philippine Institute for Strategic and Development Studies (ISDS Philippines), declared that the joint project will be a valuable contribution to the realization of a people-centered ASEAN community.

Dr. Keokam Kraisoraphong of Chulalongkorn University, Thailand, drew attention to a conceptual ambiguity in human security and spoke strongly for the empowerment of the ongoing Asian People's Assembly (APA), which would help in the development of the policy networks and communities necessary to construct a concrete agenda. Waseda University's Dr. Takashi Terada of Japan raised the issue of Myanmar and the non-intervention principle in discussing an effective framework for implementing human security.

Mr. Teguh Yudo Wicaksono, of the Centre for Strategic and International Studies (CSIS), Indonesia, pointed out the development gaps within and across ASEAN countries which remain a challenge in approaching economic integration. In addition to introducing specific policy measures to narrow such gaps, JICA-RI's senior research fellow Mr. Takaaki Oiwa raised also the need to alleviate poverty in the region.

Mr. Herman J. Kraft, of ISDS Philippines, emphasized various challenges that confront the ASEAN Political and Security Community (APSC) in dealing with human security, including conceptual issues of non-interference in internal affairs and operational issues created by differences in organizational capacities.

JICA-RI visiting fellow Dr. Jun Honna discussed maritime crimes with respect to ASEAN political integration. He pointed out the need to narrow the gap between high-level political commitment and policy-level cooperation, and he emphasized the importance of regional cooperation among law-enforcement agencies.

Dr. Maria Ela L. Atienza of the University of the Philippines discussed her vision of an ASEAN Socio-Cultural Community (ASCC) as a vehicle for realizing ASEAN social integration, accelerating the resolution of social issues, and achieving the MDGs. Dr. Mie Oba, of the Tokyo University of Science, stressed food security as an important component of ASEAN social integration and urged expansion of its targeted scope. She named the East Asian Emergency Rice Reserve (EAERR) as an example and discussed the program's prospects and challenges.

GRIPS Vice President Dr. Takashi Shiraishi described the differences among traditional and non-traditional concepts of security and human security. He argued that regional cooperation is essential to tackling common cross-border threats in the post-9.11 era, such as transnational crime, pandemics and environmental issues. He also stressed the impact of social pressures for action that are brought to bear on governments and the role of capacity building by NGOs and other civic groups.

Dr. Susumu Yamakage of the University of Tokyo concluded the symposium by saying that the ASEAN-JICA joint project opens a new window of multi-national tasking, unlike the conventional bilateral ODA approach which JICA and the Japanese Ministry of Foreign Affairs historically have pursued. He also voiced his expectations for linking ASEAN integration and human security matters.
| | |
| --- | --- |
| Day | March 30, 2009(Mon) |
| Place | Hotel New Otani Tokyo |
| Related File | |