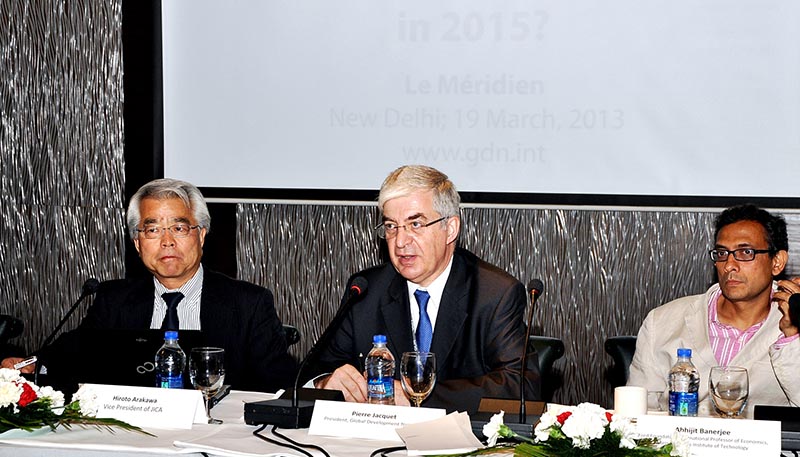 JICA Vice President Hiroto Arakawa (left),
GDN President Pierre Jacqet (center),
MIT Prof. Abhijit Banerjee (right)
On March 19, Global Development Network (GDN)*¹ hosted a High-Level Meeting entitled "Beyond the MDGs: What Development Framework after 2015? Post-MDG Consultation Meeting" in New Delhi, India. A great number of development professionals working in government, academia, and aid organization around the world participated, including JICA Vice President Hiroto Arakawa and JICA-RI Advisor Kazuhiko Ueno.
This meeting aimed mainly to exchange opinions from an academic perspective on the framework for the Post-2015 Development Agenda between members of the High-level Panel on the Post-2015 Development Agenda and researchers from developing countries' members of the GDN network.
At a morning session chaired by JICA Vice President Hiroto Arakawa, a few of researchers from developing countries gave presentations and discussed views on the themes of health, water, sanitation, and sustainability with other participants. During the session, Research Specialist Haroon Bhorat at the High-level Panel Secretariat proposed, "Under one universal agenda, each country can set and monitor specific goals and policies for post-2015 on the national and regional level."
In light of opinions from the participants, Arakawa pointed out, "MDGs were launched in the wake of 9/11 and have come this far thanks to the financial backing of donors like the Bill & Melinda Gates Foundation. The Post-2015, however, hasn't had this kind of momentum yet. Thus setting simple and clear goals is essential to formulate the framework with political mobilization."
Arakawa also attended the open symposium in the afternoon as a panelist, alongside MIT Professor Abhijit Banerjee and other members of the High-level Panel. Participants commented: Developed countries will be also responsible if Sustainable Development Goals (SDGs) are integrated in post-2015 agenda; But, under the current framework, developed countries find no incentives to engage in like those of developing countries; so that it is difficult to achieve the goals. Arakawa touched on the importance of sharing knowledge and experiences as well as the importance of South-South Cooperation toward Post-2015 development agenda. He also pointed out that academic evidence is necessary for clarifying the difference between objectives and approaches, verifying effective approaches, and unraveling relevance among goals.
*¹ GDN is a network of policy/research organizations and researchers from developing and developed countries. It was established in 1997 by World Bank initiative. It aims to share development knowledge among researchers and policy makers from developing and developed countries to bridge the gap between research and practical activities. GDN-Japan, one of the GDN's regional network partners, is a hub institution that JICA-RI hosts.
| | |
| --- | --- |
| Day | March 19, 2013(Tue) |
| Place | New Delhi, India |