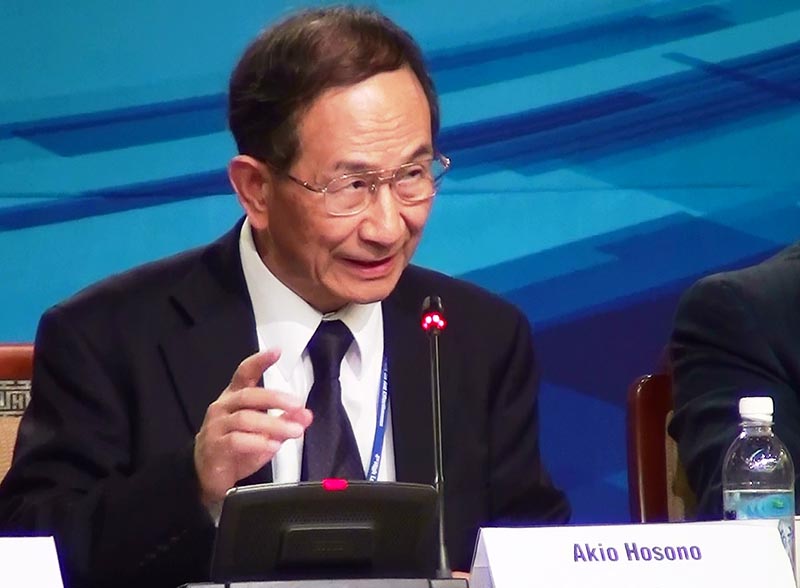 JICA-RI Director Akio Hosono at the thematic session
From November 29 to December 1, the Forth High-Level Forum on Aid Effectiveness (HLF-4) was held in Busan, Korea. Over 3,000 people from 156 countries and institutions, including South Korea's President Lee Myung-bak, U.S. Secretary of State Hillary Clinton, Rwanda's President Paul Kagame, and U.N. Secretary General Ban Ki-moon, attended to hold dialogues over aid and development policy agendas during the three-day conference. As the latest of the series, the focus was to evaluate progress in achieving better aid effectiveness and to move forward by building an encompassing framework and finding goals which all parties involved could agree.
As a part of JICA delegation, JICA-RI Director Dr. Akio Hosono, Director of Research Program Division Go Shimada, and Research Associate Shunichiro Honda participated in the Forum as well as the pre-High-Level-Forum-4 Conference "Toward a Global Compact for Development Effectiveness" organized by Korea Development Institute (KDI) and Korea Association of International Development and Cooperation (KAIDEC) also in Busan on the day prior to the HLF-4.
Changing Aid Landscape
Since the first forum in 2003, the Forum has expanded and changed its form to reflect the transforming aid landscape over the past eight years. What started out as a conference largely led by major donors including members of OECD DAC (Organisation for Economic Co-operation and Development's Development Assistance Committee) and multilateral organizations now extends its arm to fully engage recipient countries and essential players such as nongovernmental organizations, private corporations and funds, and emerging donors like China and India.
Data shows the change was indispensable. DAC development assistance accounted for over 80% of the total aid volume in 1995-98, but the figure dropped to 56% in 2005-2008. Meanwhile, the aid from private philanthropy and non-DAC donors has seen an increase from 18% to 38% during the same period and is on the rise (Catalyzing Development: A New Vision for Aid by JICA, KOICA and the Brookings Institution, 2011). As DAC members' official development assistance is unlikely to grow substantially in the current global economic climate, aid effectiveness needs to be discussed among all development actors, both traditional and new.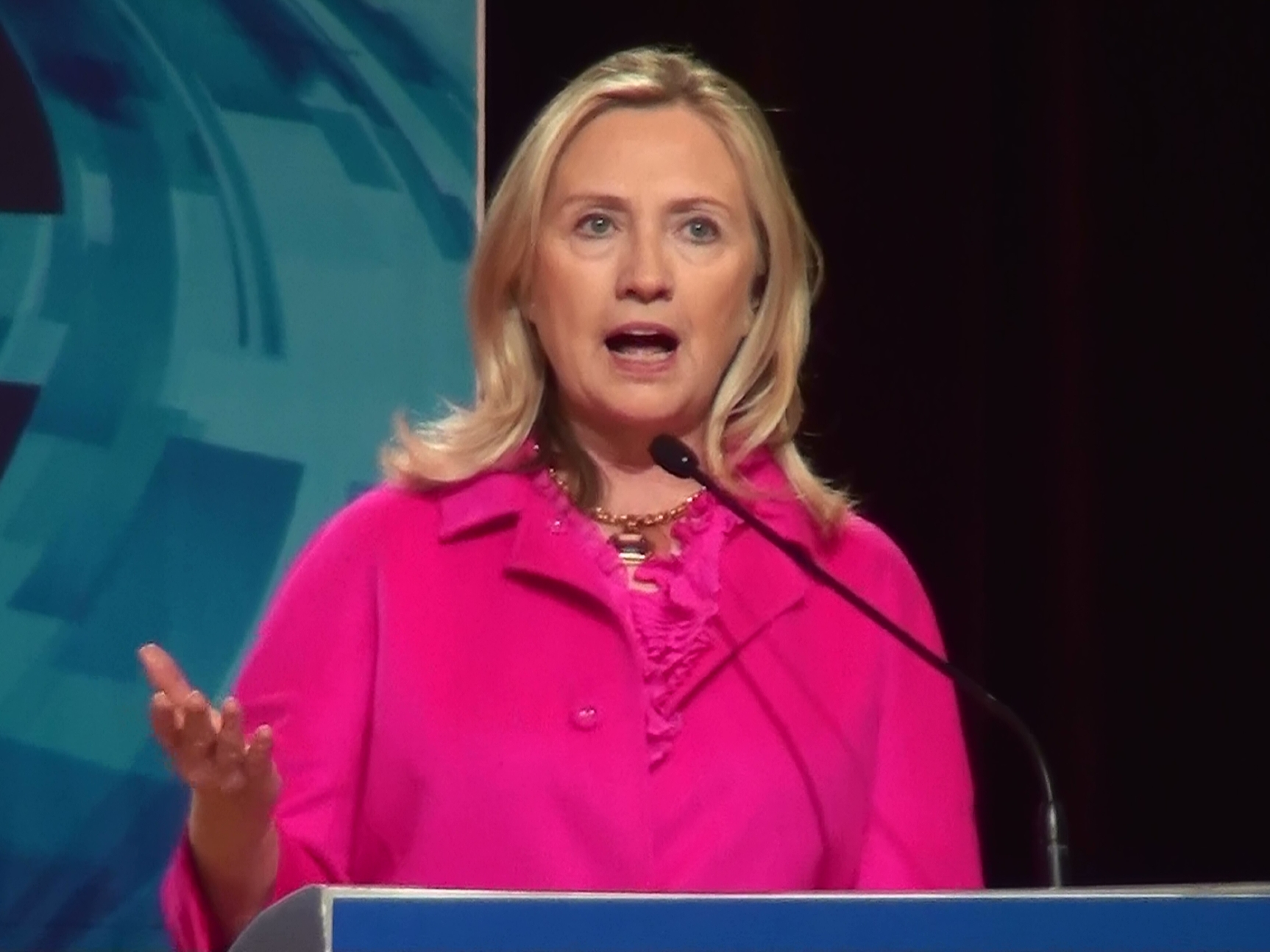 U.S. Secretary of State Hillary Clinton
Expectation Rising for New Aid Modality
The presence of the new actors was felt throu ghout the latest hig h-level forum whose theme was "Building a New Global Pa rtnership for Effective Development Cooperation."
HLF-4 Private Sector Forum was organized as an opportunity to debate on the role of the private sector in aid and development effectiveness, and numerous representatives from private corporations and funds to financial institutions, as well as governments and development organizations gathered to exchange ideas.
It is also symbolic that Korea was chosen as the host of the Forum. As President Lee said in the opening ceremony, it was once a war-torn and poverty-struck aid recipient but resurrected itself as a "vibrant democracy and economy." Having become the OECD DAC member in 2009, the country has been active in assisting developing countries with the knowledge from its own experience.
With emerging donors such as Brazil and China extensively operating aid projects, attending delegates paid keen attention to South-South cooperation and Triangular Cooperation, which is an aid modality where one developing country assists capacity development of another developing country (South-South), and additionally an OECD donor supports a South-South corporation, making it a trilateral operation.

Various presenters mentioned the importance of South-South/Triangular Cooperation in speeches and presentations while the official thematic session and JICA-UNDP special side event on this topic drew a room-full of avid listeners.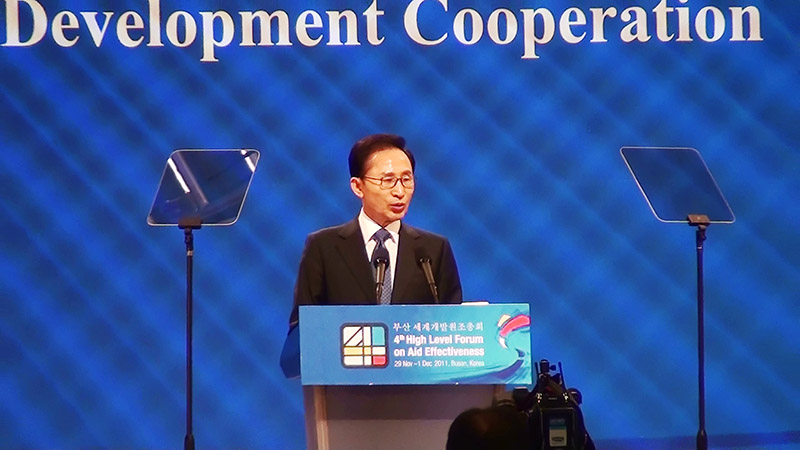 Lee Myung-Bak, President of the Republic of Korea
JICA has been a pioneer in promoting the above two modalities for the past 40 years (Yiping Zhou, director of the Special Unit for South-South Cooperation at UNDP called Japan "the champion" in South-South/Triangular Cooperation). In his presentations at the pre-HLF-4 conference and the HLF-4 thematic session, JICA-RI Director Hosono shared the lessons learned from JICA's rich firsthand experience by illustrating specific Japan-assisted projects in places like Brazil, Singapore,
and Central America. For good results, a local institution has a crucial role as a focal point ("centers of excellence") for individual endeavor and capacity development of the project partner, he said. Among the examples of effective approaches introduced, the most noteworthy was ProSAVANA project. JICA technically and financially helped Brazil transform a barren tropical savanna into one of the world's top soybean production areas and now Brazil is transferring the know-how from that experience to Mozambique with Japanese support. This is one of the most successful cases of triangular cooperation, and Secretary of State Clinton mentioned it in her HLF-4 keynote speech.
At the thematic session, some raised a question on whether South-South cooperation would possibly replace traditional North-South cooperation (a developed country helps a developing country). To this, several newer donors responded, stating South-South cooperation does not negate the traditional aid but they are complementary. In his presentation, Director Hosono stressed that South-South/triangular cooperation and North-South cooperation have their respective and comparative advantages for different kinds of knowledge creation in various domains of development.
Despite the level of attention to South-South/Triangular Cooperation, discussions firmly based on the concrete field practices are scarce. Director Marco Farani of the Brazilian Agency for Cooperation pointed out there is not much practice compared to theories and said "we should do more." Director Hosono added that "knowledge is the key component" and "sharing experiences is badly needed for advancing mutual learning to promote effective South-South and triangular cooperation."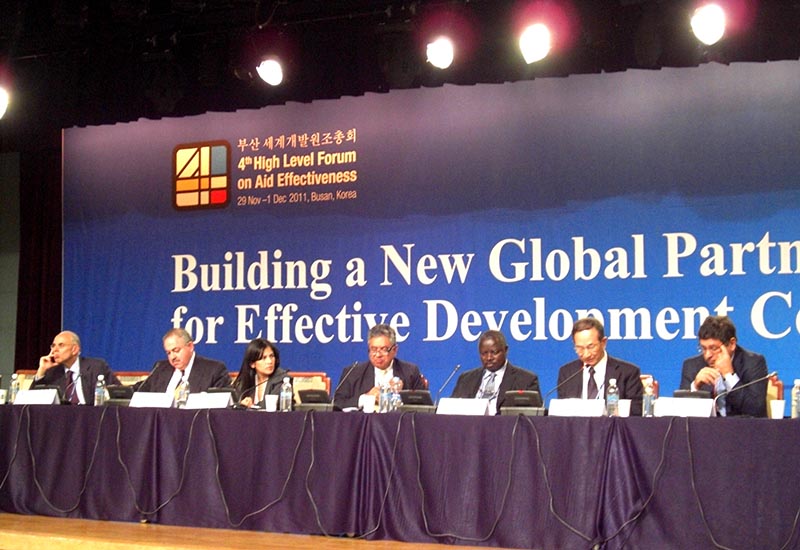 Speakers of the thematic session on South-South and Triangular co-operation
(second from right: Akio Hosono)
High-Level Forum and Beyond

The three-day forum ended with ministers and representatives from participating countries and organizations adopting a new global partnership which continues to place an importance on principles including country ownership, transparency and accountability, and results-oriented actions. As the framework has broadened to become much more inclusive with actors like the private sector and emerging economies (Brazil, China and India, among others) having joined, some critics voice concerns on how all the endorsed groups can make actual progress and keep the promises.
Still, Homi Kharas, senior research fellow at the Brookings Institution welcomed the results positively. "There was a tremendous progress from last time because so many more participants came and agreed on the outcome document," he said. "These [emerging countries] are now very important providers of development cooperation, both individually through South-South cooperation, and in combination through triangular cooperation."
JICA-RI Director Hosono reflected on the Forum. "As Southern countries are gaining a greater voice than ever, South-South cooperation has come under the spotlight...JICA-RI should examine Japan's experience of triangular cooperation from research perspective and determine what can be learned. Then, it could be utilized by many other countries while it would be a great reference in implementing JICA's future projects. In this respect, the High-Level Forum turned out a very important opportunity," he concluded.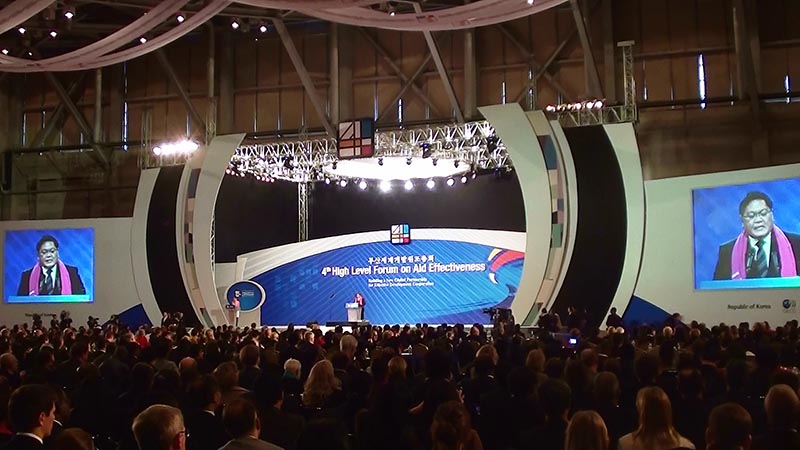 MOVIE COMMENTARY
Akio Hosono
Director, JICA Research Institute
| | |
| --- | --- |
| Day | November 29, 2011(Tue) - December 01, 2011(Thu) |
| Place | Busan, South Korea |