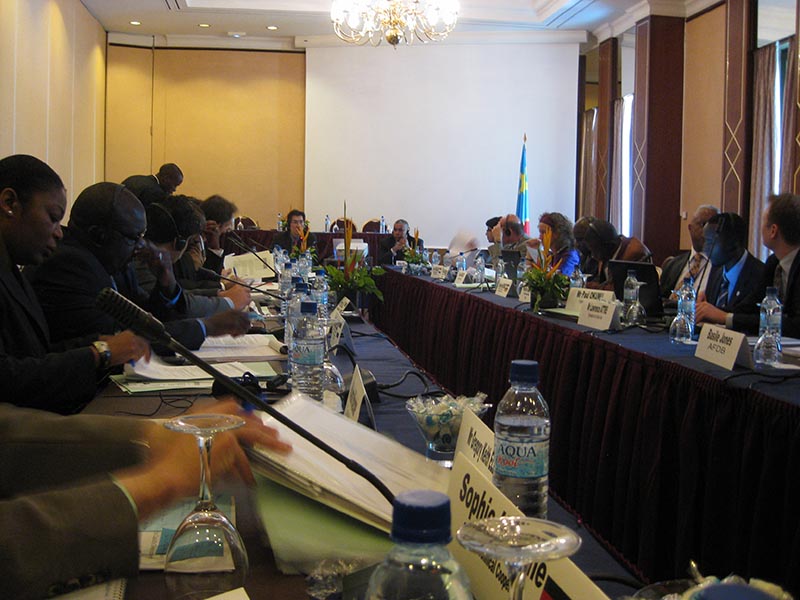 DAC Meeting (Kinshasa, Democratic Republic of the Congo)
Ryutaro Murotani, research associate at JICA-RI, attended working group meetings of the International Dialogue on Peacebuilding and Statebuilding in Kinshasa, the Democratic Republic of the Congo (DRC) on April 13 and 14, 2011. The meetings, co-hosted by the International Network on Conflict and Fragility (INCAF) -- a subsidiary body of the OECD Development Assistance Committee -- and g7+ (group of fragile states), discussed measures to improve capacity development (CD) and aid instruments in fragile states.
About 40 participants attended the meetings from more than 20 countries and international organizations, including donors in INCAF such as Japan and Sweden, g7+ members such as the DRC and Timor-Leste, and civil society representatives, among others. Working groups on "CD" and "aid instruments" were held on April 13 and 14 respectively, and people from a wide range of backgrounds engaged in candid exchanges of their views.
Emphasized Demand for Capacity Assessment

In the CD working group, opinions of NGO representatives drew most attention. They gained a broad acceptance from the attendees by stating, "Enhancement of state capacity needs not only strengthening of the administrative function of the state, but also improvement of civil society's capacity." The concept of "capacity of society as a whole" had been debated in the previous meeting as well. Some participants had focused specifically on capacity of state public institutions, while Murotani including others had emphasized the importance of looking at the capacity at the society-level in order to take legitimacy into consideration.
Also, many participants from fragile states made several proposals to donors. One of them is an increase of assistance to the higher education in hope of fostering human resources. Further, they pointed out the downside of Project Implementation Unit (PIU). Though PIUs are introduced in many countries by the World Bank and other donors with the aim of substituting the role of state's administrative function and accelerating project implementation, some participants mentioned that PIUs could undermine efforts of building government's capacity as PIUs take over a majority of the scarce human resources.
In the discussions, Murotani said, "For a realization of CD, fragile states must start with recognizing their own capacity and what's lacking there. He suggested conducting Capacity Assessment (CA) as a crucial first step to identify "capacities for what, for whom, (and) in what context."
CA is an analysis of the gap between current and ideal capacity levels. "CA has not been broadly adopted in fragile states. I think it's important to share results of CA among concerned parties including donors. Updating the information in a regular cycle, we can facilitate mutual learning, and that would eventually lead to a capacity development of whole society," Murotani added.
Debate on General Budget Support and Proposal on New Index
Meanwhile in the aid instruments working group, the representatives of fragile states pressed donors to utilize general budget support (GBS) mechanism more as GBS would allow them to control the aid money on their own.
Most fragile states run their countries with limited tax revenues, and they insisted that there is no way governments can operate without financial resources. Yet, GBS may not always be the best choice. In some cases, other aid strategies could be more effective because financial assistance to dysfunctional governments involves a considerable risk. In the meeting, many agreed that they should find an appropriate mixture of aid instruments depending on each situation.
At the end, the meeting discussed a proposal called "Towards Internationally Agreed Interim Objectives on Peacebuilding and Statebuilding in Fragile States." This document, presented by the DRC, is expected to complement the Millennium Development Goals (MDGs) as the MDGs have no target related to peacebuilding and statebuilding issues.
In order to achieve MDGs including poverty reduction and lowering infant mortality rate, it is an obvious precondition that the state is in peace. In reality, the MDGs are too ambitious for fragile states to accomplish, and the proposed document was therefore made to push forward peacebuilding and statebuilding as a first step towards the MDGs.
Specific targets were presented in the proposal by the representative of the DRC; Foster increasingly inclusive (and legitimate) political settlements and processes; Develop social capacities for reconciliation and conflict resolution; Support increasing citizen access to justice; for example.
In addition to the working groups on CD and aid instruments, the International Dialogue on Peacebuilding and Statebuilding organizes two more working groups which are "planning process" and "political dialogue." In June 2011, a global meeting will be convened for summing up draft proposals in Liberia of West Africa. The dialogue organizers aim to present a finalized proposal at the Fourth High Level Forum, where international frameworks of development assistance are to be discussed in Busan, Korea in November.
Related Research Area: Aid Strategies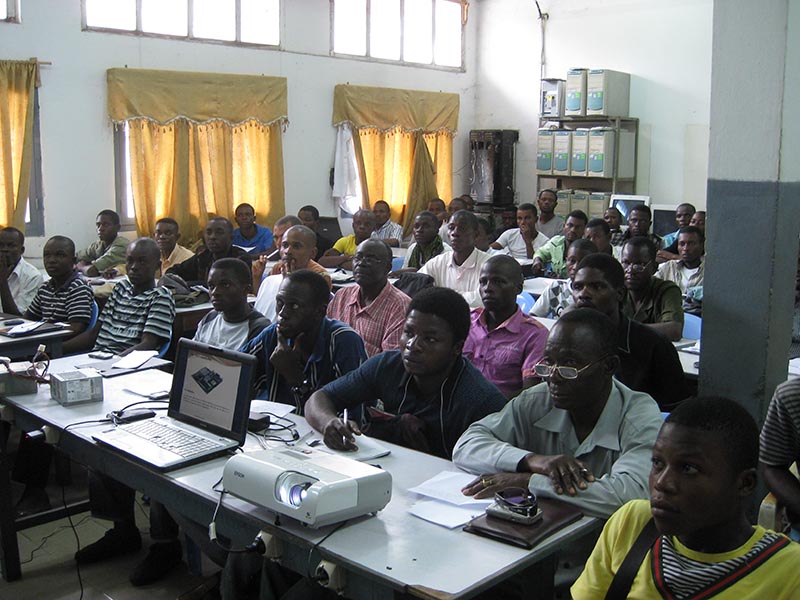 Job Training School with Full of Trainees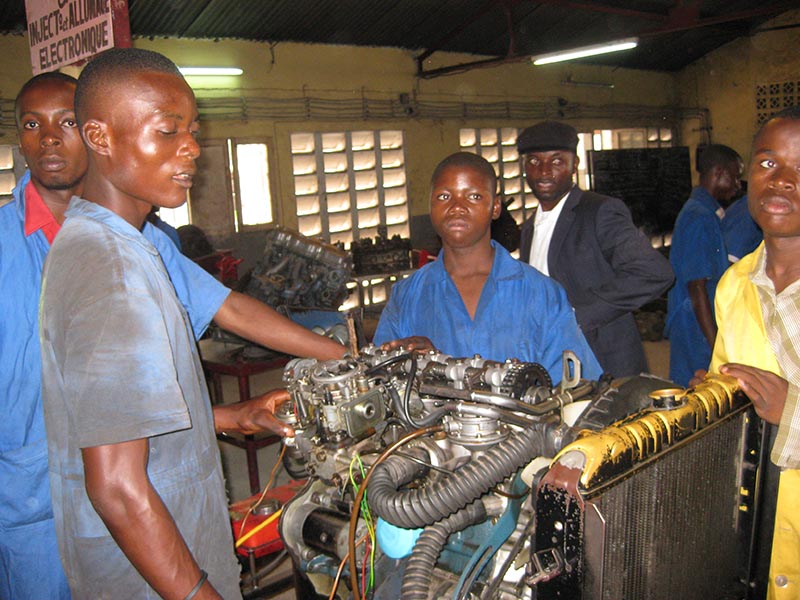 Practical Work with Machinery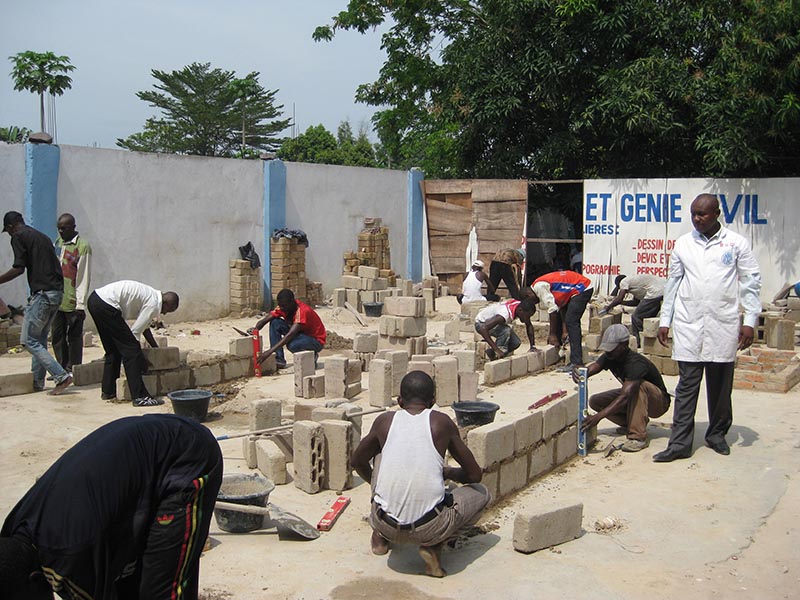 Trainees Working in a Class
| | |
| --- | --- |
| Day | April 13, 2011(Wed) - April 14, 2011(Thu) |
| Place | Kinshasa, Democratic Republic of the Congo |