On October 5, JICA-RI invited two experts of conflict and state-building to JICA headquarters to offer their perspectives to JICA specialists in this area and to field questions. Oliver Richmond of the University of St. Andrews in Scotland and Albrecht Schnabel of the Geneva Centre for the Democratic Control of Armed Forces spoke on the changing trends in state-building and exchanged views with JICA officers working in this field.

Oliver Richmond
Richmond discussed shortcomings of the generally-accepted DAC approach to state-building, and proposed a framework which he dubs the "post-liberal model." In contrast to an externally-driven model which focuses on state institutions, Richmond's approach incorporates the "on the ground" and "everyday" dimensions such as historical, civil and economic ones to attain greater local consensus and instill a sense of ownership. His message to development agencies is to seek ways to empower the local agents in partaking in the peace process to create locally-accepted legitimacy in states in transition.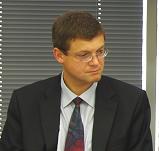 Albrecht Schnabel
In his presentation, Schnabel explained how the aim of security sector reform (SSR) is expanding beyond the traditional realm of state actors and now incorporates the civil, private sectors as well, consequently widening scope from national to individual or
human
security. Schnabel underscored how proper governance of the security sector, essential for sustainable peace and development, entails appropriate oversight of all institutions involved to ensure accountability, effectiveness and ownership.
Richmond and Schnabel also contributed to a JICA-RI workshop by critiquing research papers and exchanging views with the participants. The workshop, held on October 4 and 5 at JICA-RI, offered the researchers of the project "State-building in Conflict-Prone Countries" the chance to update each other on interim research progress, comment on work and suggest new avenues of study. Participants included JICA-RI Senior Research Fellow Shinichi Takeuchi and Research Associate Ryutaro Murotani.
The discussions in general fell into polarized concepts. Is centralized or decentralized state power more conducive to successful state-building? How can the development community improve its approaches to state-building if state-building is inherently an endogenous process by local actors? Why do the concepts of disarmament, demobilization and reintegration (DDR) and SSR fall short of the reality depicted by the researchers and practitioners?
The JICA-RI project "State-building in Conflict-Prone Countries" seeks improved ways of building capable and legitimate states through the activities of SSR, DDR of former combatants and Transitional Justice (international courts and truth commissions). Through comparative analysis of the state-building processes around the world in recent years, this research attempts to serve JICA and development institutions worldwide by providing a better understanding of the timing, sequencing, scale and type of intervention necessary to improve donors' roles as a catalyst for state-building.
Related Research Area: Peace and Development
| | |
| --- | --- |
| Day | October 04, 2010(Mon) - October 05, 2010(Tue) |
| Place | JICA-RI, JICA headquarters |
| Map Link | |
| Organizer | JICA-RI |
| Related File | |