On February 16-17, 2011, the Norwegian government hosted a "Workshop on Evaluating Conflict Prevention and Peace-building" in Oslo, Norway. This workshop was attended by 65 policy experts and aid evaluators from various organizations belonging to the International Network on Conflict and Fragility (INCAF) and the DAC Network on Development Evaluation (EVALNET), a subsidiary body of the Organization for Economic Cooperation and Development (OECD). From Japan, JICA-RI Research Associate Ryutaro Murotani and JICA Senior Advisor Keiichi Hashimoto participated.
The objective of the workshop was to share beneficial opinions about the "Guidance on Evaluating Conflict Prevention and Peace-building Activities (draft)", a pilot guidance that has been refereed by aid agencies and non-governmental organizations after it was created by OECD/DAC in 2008. Participants exchanged their views from diverse standpoints regarding problems in adopting the guidance and possible improvements to be integrated into the final draft.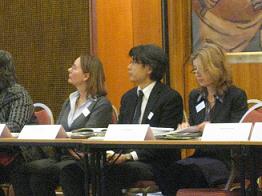 As its title indicates, this guidance evaluates the effectiveness of aid from donors contributing to make peace in fragile states, in the spirit of utilizing every means to stop conflicts. Various presentations illustrated actual evaluation results of international commitments and contributions to peace, based on the guidance, in places like the Democratic Republic of Congo, Southern Sudan and Sri Lanka.
In the discussion, Murotani pointed out that aid experts should look more at the influence of aid on recipient government's legitimacy when evaluating, because aid to a government, which is not recognized as legitimate by most of its people, cannot contribute to long-term peace-building. He also referred to the need to measure changes of state's legitimacy, quantitatively if possible.
In Sri Lanka, for instance, the government has been run mainly by the ethnic majority of Sinhala. As the government broke a ceasefire agreement and defeated a Tamil rebel group, the legitimacy of the current Sri Lankan government is not widely recognized by the Tamils.
Murotani says, "Under such circumstances, it is essential to examine influences of aid on state legitimacy. However, there were disagreements between workshop participants on whether evaluation of the influence on peace-building should be conducted based on aid alone, or on diplomacy/national defense/development altogether." Meanwhile, many aid evaluation experts believe that a uniform evaluation standard must be applied to all aid projects, and oppose employing different criteria to conflict affected cases, which might hinder a comparison between individual projects.
JICA's own guideline called "Guidelines for Project Evaluation in Conflict-prone Countries (provisional)" was introduced to the participants by Murotani as well and drew major attention from the audience. Its evaluation is based on conventional aid evaluation methods but targets both "approaches on conflict itself" and "all projects in conflict."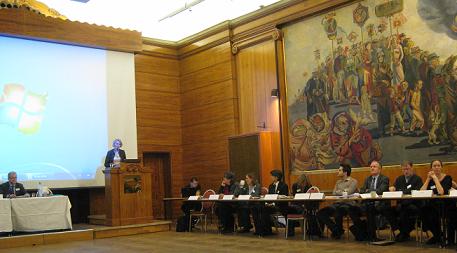 Related Research Area: Peace and Development
| | |
| --- | --- |
| Day | February 16, 2011(Wed) - February 17, 2011(Thu) |
| Place | Oslo, Norway |
| Organizer | The Norwegian governmen |