JICA-RI's team led by research fellow Takako Yuki has been working to start a collaborative research project on education with the World Bank and JICA Headquarters. Titled "System Assessment and Benchmarking for Results (SABER), Learning Achievements and Equity," the project focuses on the Bank's new program SABER, which aims to offer a wealth of data and information to investigate the relationships between educational policies and delivery of learning outcomes worldwide, with an ultimate goal to boost children's learning achievements globally.
To carry forward discussions over this collaboration, Yuki, along with Kazuro Shibuya of JICA's Human Development Department visited Washington, D.C. in the United States. During the stay from October 9 to 16, they met a score of World Bank specialists as well as JICA Washington Office staff.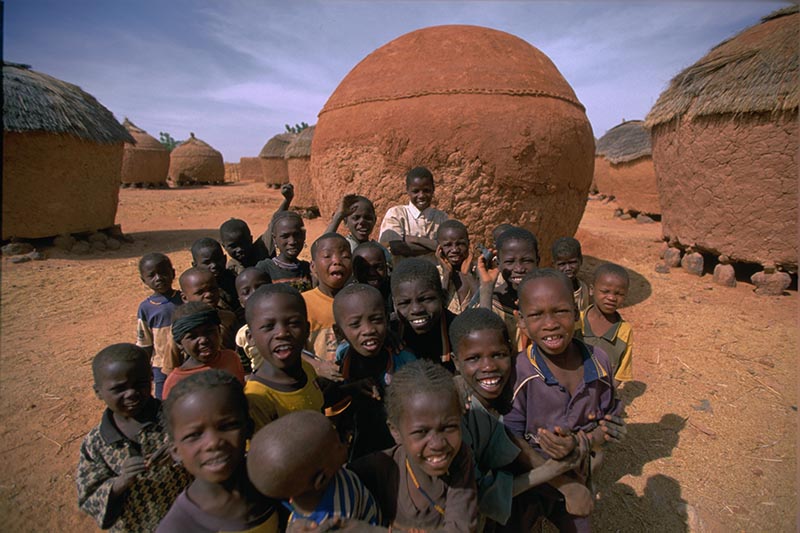 Children in Niger -- Niger has been working on an education reform with the
support of the international community since 2003 (Photo by Akio Iizuka/JICA)
JICA team is currently preparing a proposal on the joint research to apply SABER data and to examine a variety of school-based management systems -- a management style which allows more autonomy to schools rather than local governments-- and types of policies which align with those systems.
At the meeting, they discussed research approaches and target countries, and exchanged opinions with the Bank's representatives. Particularly, they confirmed that they would coordinate in the study over the "school-autonomy and accountability" (SAA) policy domain of the SABER. Since there are agendas that go across multiple domains, the team spoke with the counterparts in charge of not only the SAA domain but other relevant domains such as "teacher policy" and "learning assessment."
Moreover, JICA team plans to conduct studies to address research questions which the current SABER domains do not cover. The Bank welcomed this and a possibility of resulting in-depth studies as they said they were eager to understand the gap between policies and the ground.
Among the candidate target countries, four West African countries (Burkina Faso, Senegal, Mali and Niger) are top-listed as the World Bank and JICA have accumulated data in this region and can complement each other. For the above-mentioned in-depth studies, the collaborative research team would possibly look at countries in East Asia, East Africa, Middle East/North Africa, or South Asia, depending on further dialogues between the Bank and JICA.
While JICA team will continue discussing outstanding agendas with the counterparts at the Bank, researchers from all institutions plan to visit Burkina Faso and Senegal for a preparation of a pilot survey in December.
| | |
| --- | --- |
| Day | October 09, 2011(Sun) - October 16, 2011(Sun) |
| Place | Washington, D.C., U.S. |