On January 10, JICA-RI convened an open seminar on Conditional Cash Transfer (CCT) program in Brazil. Associate Professor Yumi Garcia dos Santos from the Federal University of Minas Gerais in Brazil led a discussion about the impact of CCT on the empowerment of women, using a case study of the Brazilian government's CCT program "Bolsa Familia Programa (BFP)." With regard to this theme, the Institute held an open seminar on CCT in developing countries in September 2012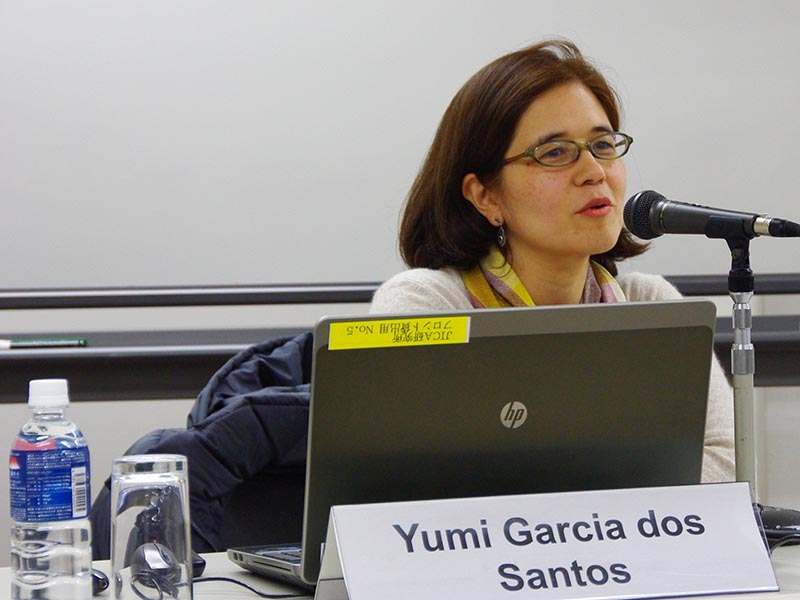 Ms.Garcia
In his opening remarks, JICA-RI Director Akio Hosono stated that amid a global interest in CCT growing yearly, BFP marks the tenth anniversary since its implementation and is a model for an international poverty eradication program along with those in Mexico and Chile.
Garcia, a guest speaker, first pointed out that more than 90 percent of recipients of BFP from the government of Brazil are women. Then she raised a question on the prevailing theory that "BFP contributes to the empowerment of women," using her field work conducted in poverty-stricken areas of São Paulo.
Brazil's BFP is the government's main framework for poverty eradication measures and particularly aims to break the cycle of intergenerational poverty. Garcia values the program because those women who receive a regular amount of money can run their households without completely relying on their male partners, which ameliorates the subordinated situation.
In Brazilian society, however, it is still considered ideal that those Brazilian female recipients assume their traditional roles—as mothers and caretakers for the elderly. Therefore, even if the women want to get a job, some husbands request them to continue to receive BFP as a full-time housewife. This reality, Garcia pointed out, shows some aspects of the program hamper women's participation in the labor market. In light of these circumstances, she emphasized that not only can the program interfere with women's independence as individuals, it also results in their losing the opportunity to earn the minimum wage, which is at least four times as much as the amount of BFP.
Garcia stressed that Brazil's BFP is an important social policy supporting the impoverished, but that at the same time, the government needs to create an environment that enables women to participate in the labor market. She further stated that she will pursue her further research that compares the effects of BFP between urban and rural areas.
MOVIE COMMENTARY
Yumi Garcia dos Santos
Associate Professor, Minas Derais Federal University
| | |
| --- | --- |
| Day | January 10, 2013(Thu) |
| Place | JICA Ichigaya Building |
| Language | Japanese |
| Related File | |