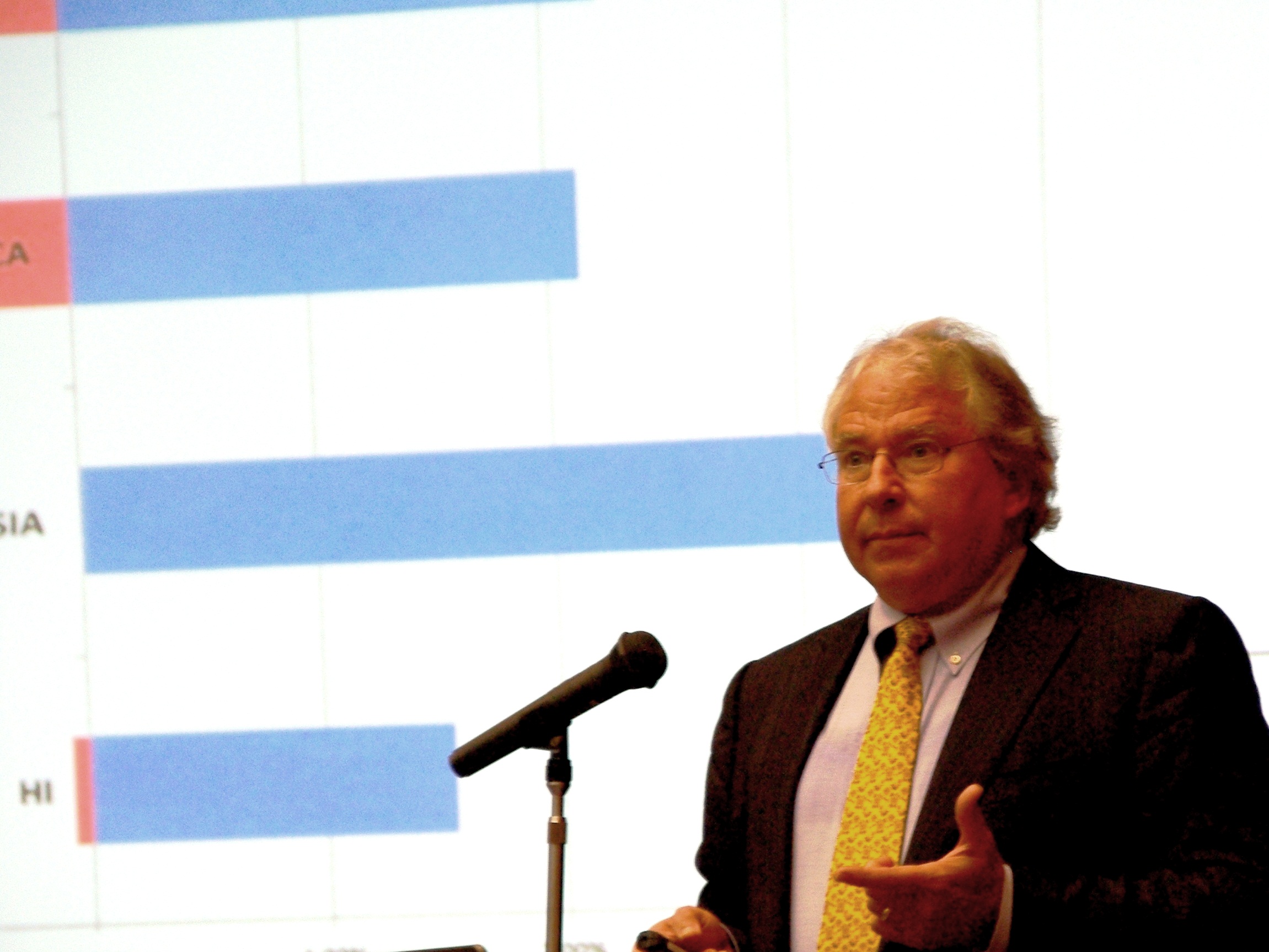 Dr. John Page
JICA Research Institute invited Dr. John Page from Brookings Institution to hold an open seminar on structural change and roles of Official Development Assistance (ODA) in Africa, titled "Aid, Structural Change and the Private Sector in Africa" on October 4. Dr. Page, formerly chief economist for Africa at the World Bank, is currently Senior Fellow at the Brookings Institution in Washington DC.
Economies of developing countries are characterized by large difference in output per worker across sectors. It is said that the key to the economic development in those countries is to shift resources from low productivity sectors to high productivity sectors—structural change—and that industrialization, in many cases, plays a significant role in this change.
Dr. Page, however, pointed out: "Since the mid-1980s, the share of manufacturing in GDP and employment had declined in Africa, and industrial sophistication had not been observed. Structural change, therefore, didn't take place in Africa.
He also stated: "Private investment is vital to expedite structural change in Africa, but domestic private investment is extremely limited in this region, while foreign direct investment also concentrates on natural resources. Under these circumstances, development assistance can play a crucial role in reforming the investment climate and nurturing advanced industries, as well as in supporting formulation of growth strategies through exports." Meanwhile he pointed out: "Donors' interests since the 1990s have focused on regulatory reforms, as can be seen in the Doing Business Index. At the same time, support for infrastructure reform to facilitate private investments and for higher education to contribute to industrial sophistication has not been incorporated into the Millennium Development Goals. As a result, investment required to propel structural change have not fully been made
In light of these present situations, Dr. Page proposes the following four new strategies for aid:
1) Supporting the trade logistics improvement for export push through the development of infrastructure and institutions
2) Strengthening industrial agglomerations to boost productivity
3) Building firms' capacities through networks formulation to introduce good practices from other regions and management training
4) Supporting regional integration through implementation and harmonization of development assistance, in ways that the ownerships of Regional Economic Communities (RECs) is respected.
Lastly, Dr. Page stressed that development assistance to Africa, with the four strategic objectives mentioned above, can play a catalytic role in accelerating structural change in Africa.
MOVIE COMMENTARY
John Page
Senior Fellow, Global Economy and Development, The Brookings Institute