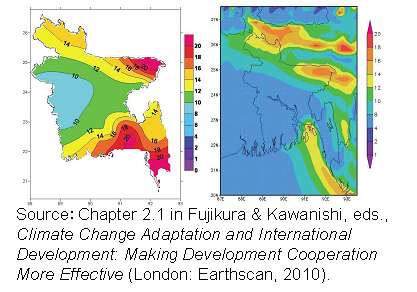 "Adaptation to and Mitigation of Climate Change in Developing Countries"
To tackle of climate change, JICA-RI is conducting a research project on climate adaptation and mitigation, in cooperation with leading researchers and practitioners in the field. This article presents an overview and the current progress of this research.
(Fig.) Observed weather data (left) and model simulations (right) of Bangladesh's average precipitation from Jun.-Sep., from 1979 -2003.
In cooperation with the Meteorological Research Institute of Japan (MRI), JICA invited officials from Asia and conducted a technical training course to improve the analytical capability of their climate change projection models. During the training,, The Earth Simulator was used to produce air temperature and precipitation projections in each country on a 20-kilometer mesh resolution, the highest among the global models currently available. Present-day model simulations of historical data were compared with observed weather data brought by each trainee. Findings indicate that while the model can adequately track the pattern of observed data in countries with flat topographies such as Bangladesh, its ability to produce projection in countries with intricate geographical features like Indonesia and the Philippines needs to be enhanced.
Research Project Overview
"Adaptation" and "Mitigation" Measures on Climate Change
The fourth assessment report released by the Intergovernmental Panel on Climate Change (IPCC) in 2007 stated that "most of the observed increase in global average temperatures since the mid-20th century is very likely due to the observed increase in anthropogenic greenhouse gas concentrations." Climate change mitigation measures involve a reduction of greenhouse gas (GHG) emissions, such as carbon dioxide, which causes global warming. The international community has been engaged in various mitigation activities, including the promotion of technological innovation for a low-carbon economy, preservation of forest resources that serve as carbon sinks, and introduction of Clean Development Mechanisms (CDM) and emissions trading. However, it takes along period of time for such mitigation strategies to produce results, and the importance of adaptation, which prevents and reduces impacts of global warming, has been gaining increasing international recognition in recent years.
Meanwhile, emissions from developing countries amount to more than 50 percent of the global total today, with China overtaking the United States to become the world's largest CO2 emitting country , according to the "CO2 Emissions from Fuel Combustion - Highlights " report released by the International Energy Agency (IEA) in October 2009. However, many developing countries are vulnerable to extreme weather events, such as droughts and severe storms, and they also lack development funding for countermeasures. For this reason, developed countries are not only required to meet their goals domestically, but to also assist developing countries in adapting to and mitigating climate change.
At the United Nations Summit on Climate Change in September 2009, then-Japanese Prime Minister Yukio Hatoyama proposed a Hatoyama Initiative, under which Japan would provide more financial and technical assistance to developing countries than ever before. In support of the plan, he, at 15th session of the Conference of the Parties (COP 15) to the United Nations Framework Convention on Climate Change (UNFCCC), announced a three-year plan to deliver a total of 15 billion dollars from the public and private sectors, in aid to developing countries that pursue measures tackling climate change and are vulnerable to adverse climate impacts.
Purpose, Details, and Expected Outcomes of the Research
Focusing on the global agenda of climate change, Visiting Fellow Ryo Fujikura heads and his team at JICA-RI are conducting the research project "Adaptation to and Mitigation of Climate in Developing Countries," in collaboration with domestic and international researchers in the field. The adaptation component of the study forecasts how climate change impacts will affect countries in Asia and Africa. It also proposes measures to help countries adapt to climate impacts and suggests the direction of aid from developed countries and international organizations. Meanwhile, the research on mitigation aims to examine the concrete measures necessary for low-carbon growth in Asia and make recommendations on how the international community's assistance could complement them.
To achieve these goals and for research findings to be widely shared with the international community, practitioners and researchers from domestic and foreign universities, MRI of Japan, the Stockholm Environment Institute (SEI) of Sweden, and the Environmental Law Institute (ELI) of the United States reviewed case studies in Asia and Africa to determine the political challenges that hinder adaptation. For the research on mitigation, JICA-RI, along with the National Institute for Environmental Studies (NIES) and the Institute for Global Environmental Strategies (IGES), will compile the research findings on low-carbon growth and energy conservation, as well as CDM, as well as publish books for each topic .
"Japan has made a commitment to assist the international community in climate change mitigation and adaptation efforts," Fujikura says about the significance of the research project. "This research project will provide useful ingredients in examining effective assistance measures in this context." He expects the findings from this research to inform post-Kyoto Protocol negotiations, through which the international community is exploring climate change solutions.
Current Research Progress and Future Prospects
Book and Policy Brief on Adaptation Completed
As an output of the adaptation section of the research project, which commenced in fiscal 2009, the book "Climate Change Adaptation and International Development" (edited by Fujikura and Kawanishi, and published by Earthscan Publications Ltd.) was completed in December 2010. JICA Senior Advisor Masato Kawanishi, a co-author of the book, presented highlights of the publication before delegates to to COP16's side event "Development and Climate Days,"
The need for research on adaptation in Asia and Africa is pointed out in IPCC's assessment report. "There has been a great amount of interest in this book as it compiles such case studies, and we have received many inquiries," Kawanishi says.
Based on the lessons learned from this research, JICA-RI also released a policy brief titled "Effectively Promoting Climate Change Adaptation in Developing Countries" (authored by Fujikura, Kawanishi). This policy brief underscores the significance of mitigation and adaptation measures in tackling climate change, as well as the developing countries' vulnerability to climate risks. It outlines the following three recommendations:
1.To produce climate projections for policymakers and stakeholders such as farmers, it is essential to swiftly collect historical climate data, convert them to digital formats, and promote training of technical experts who analyze climate models and projection results as well as policy specialists who explain the projection results in words that can be easily understood by stakeholders.

2.Immediate action is needed for extensive "vulnerability assessments" in identifying areas and social groups that specifically require adaptation actions. In doing so, it is important to clearly identify political challenges that contribute to increased vulnerability.

3.Past development projects should be reassessed from the perspective of adaptation, and their experiences and lessons should be consolidated. The system and capacity to integrate adaptation measures into existing and future development processes (policies, planning, projects) should be organized to promote mainstreaming of climate change adaptation.
Launch of Research on Climate Change Mitigation
The research on mitigation was launched at JICA-RI in late September 2009. Researchers participating in the project gathered to discuss details and structures of each study component. Based on these discussions, the soon-to-be-published book will include reviews of international frameworks on mitigation activities, low-carbon growth measures in developing countries, "nationally appropriate mitigation actions (NAMA) done in a "measurement, reporting and verification (MRV)" manner, and cases on interurban cooperation and GHG reduction in Asia.
The book on mitigation will be published concurrently with the COP17 planned in late November to December 2011 in South Africa. Research findings will be disseminated to the international community by taking advantage of the forum provided by COP, as was the case with the book on adaptation.