On February 1, 2011, JICA-RI, with the support of the Ministry of Environment, held a symposium titled "Climate Change Adaptation and International Development – Visions of International Cooperation against Climate Change." Its purpose was to launch JICA-RI's newly released book "Climate Change Adaptation and International Development: Making Development Cooperation More Effective" edited by Ryo Fujikura (Visiting Research Fellow, JICA-RI) and Masato Kawanishi (Senior Advisor, JICA), as well as to share the findings of various studies on climate change and international cooperation. About 80 participants from development consulting firms, universities, NGOs, governments, and other related organizations attended the event.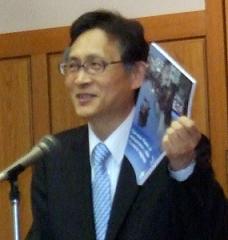 JICA-RI director Keiichi Tsunekawa commenced the event with an opening speech, saying: "Climate change is a threat to all living things on Earth, and developing countries are especially vulnerable to its effects. Assisting developing countries to overcome climate change-related damage is a crucial matter for JICA." He stressed the significance of JICA-RI's research on climate change measures, particularly on adaptation, within the frame of international cooperation.
After the opening speech, the following authors and contributors of the new book made presentations: Ryo Fujikura, Shoji Kusunoki (Director, Climate Research Department, Meteorological Research Institute), Takeshi Takama (Senior Advisor, JICA), Kiyoshi Masumoto (Senior Advisor, Office for Climate Change, JICA), and Izumi Kubota (Senior Researcher, National Institute for Environmental Studies). Details on all the presentations are as follows:
Ryo Fujikura (Visiting Research Fellow, JICA-RI)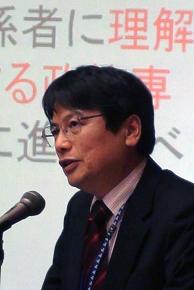 As the first speaker of the symposium, Fujikura explained that in Japan, 95% of climate change discussions center on 'mitigation measures' which aim to reduce greenhouse gas (GHG) emissions, and people's understanding for 'adaptation measures,' which prepare us for the effects of climate change, is far from enough. And he said, "We need to incorporate more elements of adaptation into aid programs for developing countries."
Fujikura pointed out that "reducing vulnerability" and "building the capacity to recover" are the two key elements of effective adaptation. "Vulnerability" in this case refers to the susceptibility to the negative impacts of climate change, which vary depending on weather, geography, and other natural conditions, plus economic, social, political, and other factors. This suggests that the level of vulnerability differs according to their economic status even among the people in the same region. Poor people face harsher conditions in the current situation, which is why adaptation measures are urgent matters. Meanwhile, "capacity to recover" is the ability to bounce back from the state of crisis.
To contribute for effective adaptation measures, JICA-RI conducted a study on flood damage in Metro Manila – which is projected to expand in the future – by running simulations to estimate the extent of damage in cases with and without the ODA loan projects for disaster prevention. This research has enabled the researchers involved to quantitatively assess the effectiveness of disaster prevention projects in the case of climate change.
Shoji Kusunoki (Director, Climate Research Department, Meteorological Research Institute)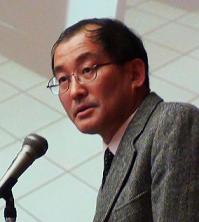 The Meteorological Research Institute's Climate Research Department predicted future climate changes by using a 20-km mesh global atmospheric model and a supercomputer (future changes in land use, such as deforestation, not taken into account). Kusunoki, who was in charge of the chapter on future climate change projections in the book, revealed that in Indonesia and the Philippines, precipitation will increase during the rainy season and decrease during the dry season, while in Thailand and Vietnam, precipitation during the rainy season will rise as well, but arid areas in those countries will become even drier. He also warned, saying that, "Rain will fall in a concentrated manner and in shorter periods of time, and droughts will increase. Water resource management for climate change adaptation is crucial."
Takeshi Takama (Senior Advisor, JICA)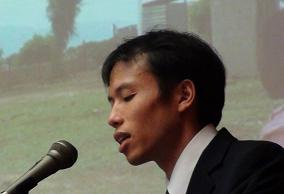 Takama gave a presentation on how to come up with effective adaptation measures by citing the example of Ga-Selala village in northern South Africa. Over the past few years, Ga-Selala village has experienced lower-than-average precipitation and rainy seasons that were out of cycle. Although the villagers are aware of "water shortages," they do not perceive the phenomenon as a "consequence of climate change." Takama pointed out that this seemingly minor difference in perception actually represents potential problems to a serious degree.
He said: "When villagers think of water shortages as a transient problem, they try to cope with it by adopting short-term solutions, such as reducing their food intake. This will weaken them and increase their vulnerability, resulting in a vicious cycle. Bringing the awareness that water shortage is a long-term problem caused by 'climate change' may provide impetus for avoiding temporary measures."
The same can be said about policymakers. Building irrigation facilities to cope with water shortages would not solve the real problem, according to Takama. He concluded his presentation by stating, "Recognizing climate change is crucial. We need to develop potential capacity by combining multidimensional solutions, such as developing cooperative farms that can be adaptive in the long run, rather than resorting to short-term measures. By doing so, we will be able to achieve 'regret-free' adaptation to climate change."
Kiyoshi Masumoto (Senior Advisor, Office for Climate Change, JICA)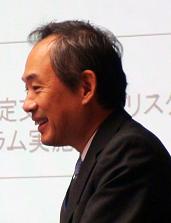 Masumoto's presentation was titled, "International Cooperation against Climate Change and the Role of JICA: Building on the 16th Session of the Conference of the Parties (COP 16)." As specific cases of adaptation measures, he listed water conservation, sanitation, disaster prevention, coastline preservation, and dealing with infectious diseases, as well as maintenance of water supply systems and irrigation facilities, promotion of agricultural water conservation, and afforestation.
Masumoto introduced a case of JICA's grant aid project which established 91 two-story shelters in Bangladesh, a low-lying country with 80% of the national land lying less than nine meters above sea level. The shelters were designed so that the second floor can be used as emergency evacuation areas in case of flooding. "Integrating development and climate change measures is the real challenge," Masumoto explained.
Izumi Kubota (Senior Researcher, National Institute for Environmental Studies)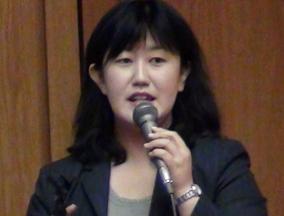 Kubota shared her findings in her presentation "Towards COP17: The International Debate on Adaptation and Mitigation Measures." According to her, the international community agreed on a general framework of climate change adaptation at the Cancun Agreements of COP16, but its details are left for future negotiations. She elaborated, "Unlike the case for mitigation, both developed and developing countries have the same understanding on promoting climate change adaptation.
However, least developed countries (LDC), island countries, and Africa are set as priority areas for fund distribution, and this will most likely lead to conflict between prioritized countries and other developing countries. Along with the debate regarding future frameworks, the negotiations towards COP17 are bound to be extremely difficult."
Related Research Area: Environment and Development / Climate Change
Related Research Project: Adaptation to and Mitigation of Climate Change in Developing Countries
| | |
| --- | --- |
| Day | February 01, 2011(Tue) |
| Place | JICA-RI |
| Organizer | JICA-RI |
| Related File | |