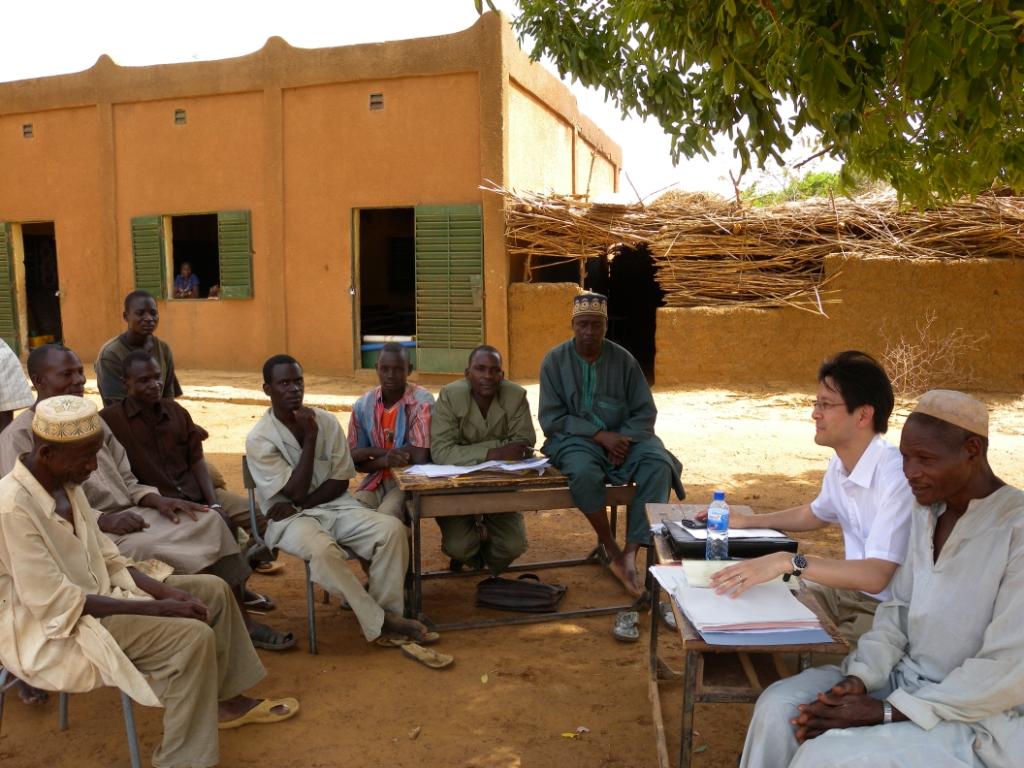 Honda interviewing COGES members in Tahoua state
From June 11 to 25, Shunichiro Honda, JICA-RI research associate, made a field trip to the Republic of Niger. This was to observe the current status of JICA's 'School for All' project, which he is currently investigating as one of the case studies for the research "Revisiting the Capacity Development Approach through Comparative Case Analysis." Developed through the collaboration between the Nigerien Government and JICA, this participatory approach of school management spread throughout the nation in three years and has been contributing to the improvement of Niger's primary education.
In the capital Niamey, Honda met a number of people engaged in the project such as top officials of the Ministry of National Education, staff at 'School for All' project offices, and representatives at local NGOs and research institutions. He also visited two regions of Tahoua and Dosso in southwestern Niger to interview members of COGES (school management committee) and local officials.
One of Honda's findings through this trip is that COGES is now playing an increasingly important role in the education of the country. Residents and officials at various layers -- from villagers and COGES members at local communities to provincial, regional and central education administrators -- pointed out that the COGES system is indispensable for bettering primary education in the country.
Honda explains: "Niger has gone through a challenging few years due to the democratic transition process following the military coup in 2010 and other difficulties such as droughts. It is remarkable that school improvement activities through COGES mechanism has been sustained under such circumstances. It indicates the effectiveness of the bottom-up and community-led capacity development (CD) approach which the 'School for All' project" has been promoting."
In Niger, many parents were not keen on sending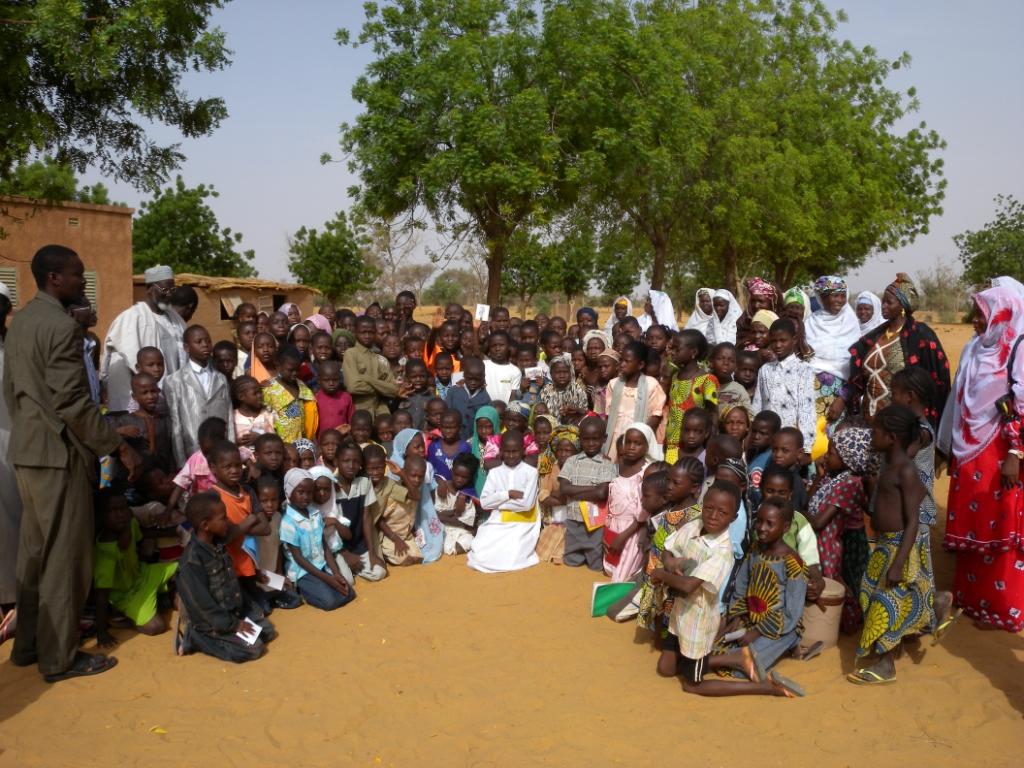 COGES members and villagers in Dosso state
their children to school, partly due to the lingering dissatisfaction toward national primary education, which they perceived inefficient in the past. Also, local residents often considered a school as a governmental entity, something that does not belong to their own community. However, since the introduction of COGES, their perception has gradually changed and a sense of ownership over the primary school has grown through community-driven school improvement activities, where local residents, parents, teachers, school principal, all work together. Through the visit to the local sites, Honda says he could better understand the significance of people's awareness [on education] in sustaining participatory management of primary schools.
"School for All" project has provided various assistances in things like: developing well-designed training programs adapt to local context; introducing a school activity plan to empower local community and teachers; and providing opportunities for stakeholders' dialogue at diverse levels such as COGES assembly meetings, school inspectors meetings and regional education forums. Honda shares his insight from the CD perspective and says: "In recent international discussions on CD, many researchers have come to consider CD process as a multi-stakeholders learning process in organizational and social transformation. In this sense, I think the 'School for All' project has contributed to shaping such processes and creating opportunities of mutual learning for various actors including teachers, school officials and local people."
Related Research Area: Aid Strategies
Related Research Project: Revisiting the Capacity Development Approach through Comparative Case Analysis

| | |
| --- | --- |
| Day | June 11, 2011(Sat) - June 25, 2011(Sat) |
| Place | Niger |