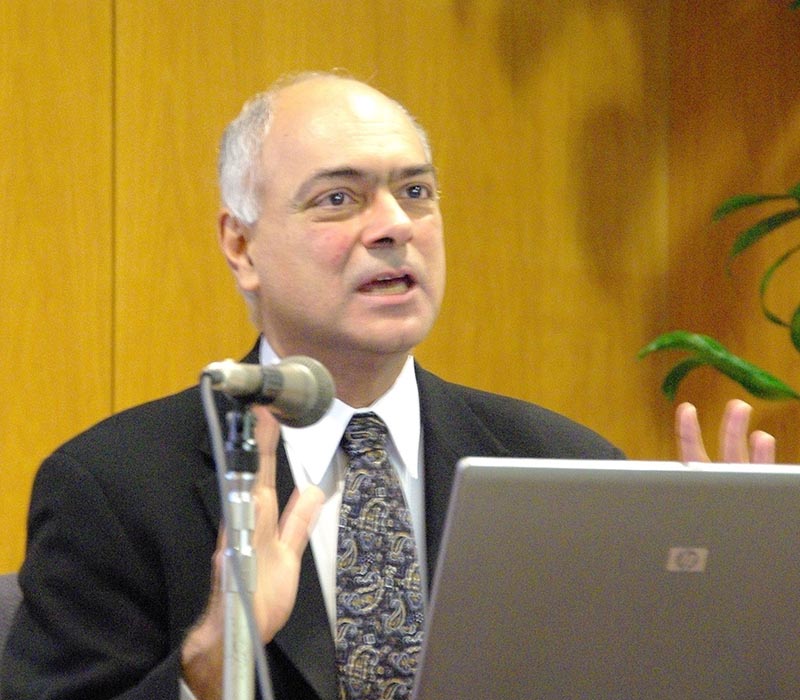 Dr. Rohinton Medhora
On December 15, JICA-RI welcomed Dr. Rohinton Medhora, Vice President of International Development Research Centre (IDRC), and convened a seminar titled "History of Development Thought."
Dr. Medhora is an economist whose expertise ranges from globalization and monetary policy to aid effectiveness and supervises all the research programming at IDRC, a Canadian public organization which has been supporting research in developing countries for growth and development since 1970.
Currently, Dr. Medhora is co-editing a volume on development thought and, in his talk, introduced an overview of the book, whose topics would cover major critical issues regarding development, concepts and theories in fields (like state and society, and peace and security), and experiences of various countries, relevant organizations and bodies, among others.
Dr. Medhora said that from the experience of the post-war era over the past 50 years, now we know there does not exist a dominant development paradigm that has succeeded everywhere and this fact must be recognized. He added, "Due to the economic crises since 2008 and 2009, the world has realized that there is no single way of doing things but in fact each country has its own view and they all coexist." Also he stressed, "Knowledge is globalized and good ideas have gone global so application and adaptation have to be so as well." So the book, to be published in early 2013, will reflect this "plurality" and diversity of opinions and knowledge regarding development, he said.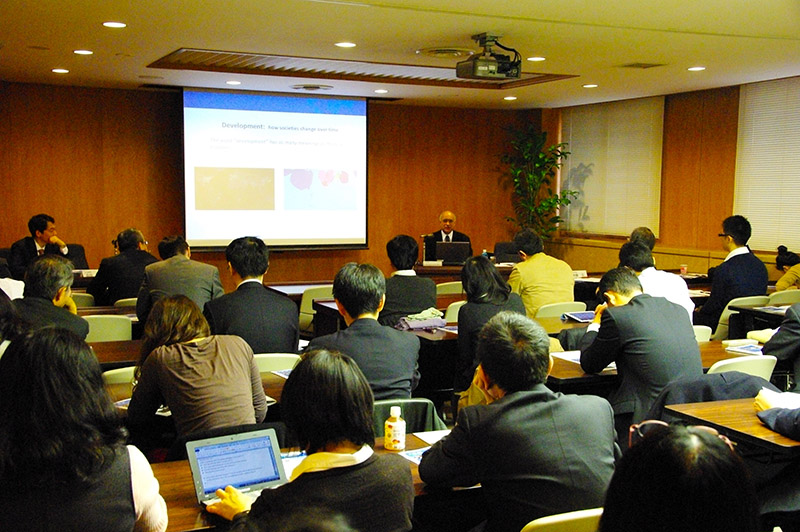 He also pointed out that the development field is still much segmented and that the chapter authors will address issues with an interdisciplinary approach to understand development. "At the end of the day, development is a common sense issue and it's not, say, strictly about economics or political science," he summed up.
Hiroshi Sato, secretary-general of Institute of Developing Economies Advanced School and director-general of International Exchange and Training Department at JETRO, and JICA-RI Deputy Director Hiroshi Kato joined the seminar as commentators. Mr. Sato showed connotations of the word "development" can vary depending on language and culture and suggested a possible link between those and actual development approaches taken by different countries. Meanwhile, Deputy Director Kato gave a short presentation titled "Rethinking Development" and stated that Japanese people in the aid industry need to think of development not from the frame of official development assistance (ODA) only, but that of something broader. He briefly illustrated the history of Japan's ODA and how its concept evolved, and emphasized that the world must think of development in a new paradigm, looking towards the post MDGs period.
After the seminar, Dr. Medhora expressed how pleased he was to learn how much JICA/JICA-RI and IDRC have in common. He said, "[Similarities come from] the value we place on research, the value we place on promoting South-South and North-South cooperation around research- and evidence-based policymaking and building innovative capacities throughout the world. In that sense, we have common missions."
MOVIE COMMENTARY
Dr. Rohinton Medhora
Vice-President, Programs, International Development Research Centre, Canada
| | |
| --- | --- |
| Day | December 15, 2011(Thu) |
| Place | JICA Research Institute |
| Organizer | JICA Research Institute |
| Language | English |