On March 9, JICA-RI convened an open workshop, inviting Mr. Anshu Gupta, founder and director of Indian NGO Goonj,¹ also the winner of Japanese Award for Global Development Network (GDN) competition last year. At the GDN-Japan² —sponsored workshop, which was attended by specialists and researchers in Japan, he focused on his NGO's poverty-reduction initiative and empowerment of individuals.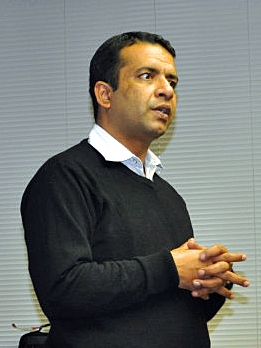 Mr. Gupta
Mr. Gupta gave a presentation on the importance of resolving "non-issues," challenges which people are unaware of, together with the activities of Goonj. He introduced the present situations in India, showing the problems that rapidly-developing countries have faced: the great gap in the levels of the conditions of public restrooms and water facilities between New Delhi's new airport and local railway stations; the shortage of clothes under the severe weather condition; and the use of unsanitary materials for menstruation (a social taboo to talk in public).
In light of these circumstances, Mr. Gupta emphasized that in order to tackle "non-issues," problems that people are unaware of, it is important to broadly disseminate "parallel economy," Goonj's core philosophy using old material as a resource, instead of a traditional charitable item. Goonj has been implementing a project to meet basic human needs for the poor, an initiative called "Cloth for Work."³ Those who join the project receive used cloth or clothes as compensation; local residents take their own initiative in determining what kinds of projects they will undertake, such as construction of roads and bridges and maintenance of canals; the residents who engage in those tasks are remunerated with "waste materials," which are recycling items from the urban area; and the residents are in charge of maintenance cost. In this way, the organization hardly pays in cash for its operational costs.
During the session of questions and answers, participants asked specific questions, such as if the activities are different between the urban and rural areas, or if poor women can afford to pay for sanitary products. In response to these questions, using cases in India, Mr. Gunpa emphasized the importance of mitigating regional aid disparities, as well as the need of producing affordable sanitary pads for the poor.
¹ Goonj is an NGO founded in New Delhi, capital of India, in 2004. The organization has engaged in activities, major one of which recycles the excess resources such as discarded underutilized materials in urban households to help improve lives of the poor in rural and disaster-prone areas.
² GDN-Japan is one of the regional networks of GDN. JICA-RI plays a role as the hub institution for this Japanese network.

³ The versatility, innovation, and effectiveness of this initiative have received accolades, winning the First Prize in the Global Development Awards 2012 at the 13th Annual Global Development Conference held in June 2012 in Budapest, Hungary. Awards Competition was established with the aim of discovering and furthering research in the development field and in innovative development programs.
| | |
| --- | --- |
| Day | March 09, 2013(Sat) |
| Place | JICA Ichigaya building |