Many factors such as an emerging China have brought about significant changes to the economic and military power balance within the Asia region. While other Asian countries, too, have been enjoying economic success, how can Japan as the ex-driving force of the region face such countries and what policy measures should it adopt for the future? This was the theme discussed at a symposium held at the Mita Campus of Keio University on October 14.

Dr. Keiichi Tsunekawa
At the symposium entitled "A Progressive Asia and Japan's Challenges" (organized by the Keio Institute of East Asian Studies with support from JICA-RI), JICA President Sadako Ogata delivered the keynote speech. This was followed by presentations from Keio University Professor Ryosei Kokubun and three other panelists, each drawing from his own expertise. Afterwards, an exchange of views ensued with the discussants including JICA-RI Director Keiichi Tsunekawa and Keio University Professor Masayuki Tadokoro.
In her keynote speech, JICA President Ogata stated that in providing development assistance to Asia, Japan should aim for "dynamic development without disparity" among states or people. Citing the regional differences within China, she cautioned that Asia keeps growing while retaining vulnerabilities. For the future of Japan, what is important will be to ensure human security beyond state security and in cooperation with other Asian countries, she emphasized, touching upon the words of Robert A. Scalapino, professor emeritus of the University of California at Berkeley and specialist in Asian politics and international relations, whose book translated into Japanese was recently published in Japan.
A specialist in Chinese politics, Professor Kokubun analyzed the current status of Asia and indicated which economies are being subject to the effects of globalization resulting in the empowerment of certain polarities in politics and security. Makoto Iokibe, President of the National Defense Academy of Japan, discussed how Japan should respond to China's behavior in the international community, remarking on the country's increasing military might. Fumiaki Kubo, Professor at the University of Tokyo and a specialist in US politics, talked about the importance of the Japan-US alliance in light of stability in Asia, and reviewed postwar Japan-US relations including the recent Futenma issue. Narushige Michishita, expert in Korean security issues and an associate professor at the National Graduate Institute for Policy Studies, introduced examples of South Korean efforts and stressed the importance of Japan's preparedness against an unstable North Korea, citing practical measures. As an expert on Southeast Asia, Susumu Yamakage, a University of Tokyo professor, explained the differences between regional integration of Asia and Europe.
Responding to these viewpoints, Director Tsunekawa questioned the panelists. Referring to the Conlon Report of 1959 which pointed out issues among Japan, the US and China, he asked what commonalities and differences exist now compared to fifty years ago, and whether or not the increasing interdependency among countries can lead to a stable relationship. Despite the fact that issues such as climate change and infectious disease which cannot be resolved by any one country persist, he questioned why human security through multilateral cooperation is lagging. Professor Tadokoro inquired about future US long-term interest in Asia. In reply to these questions, the panelists stated that it is admirable that China has achieved economic stability and development. On the other hand, what remains an issue is what position the country will take, now that its influence has been expanding. Deepening interdependency can also deepen mutual understanding, but we must be aware that it can cause friction, too. The US, a nation which values diversity and practical information, will always prioritize the Asia region.
Lastly, responding to the vast audience of students and others, President Ogata delivered her message: The impact of Information Technology has narrowed the realm a state can control and has extended the individual citizen's sphere of influence. Because of this, Japan needs "wise citizens" - ones who think not only of themselves, but also of the people, the countries and communities around them from a global perspective.
"Human security," a topic of the day's discussion, is also at the heart of an ongoing JICA-RI project centering on issues in ASEAN integration. In addition, JICA-RI is proactively pursuing research activities in a variety of themes related to Asian countries, such as an analysis on the current status of higher education within the Asian region.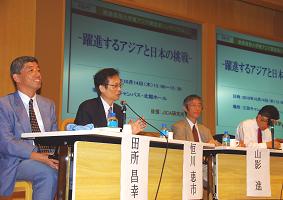 | | |
| --- | --- |
| Day | October 14, 2010(Thu) |
| Place | Mita Campus of Keio University |
| Map Link | |
| Organizer | Keio Institute of East Asian Studies (with support from JICA-RI) |