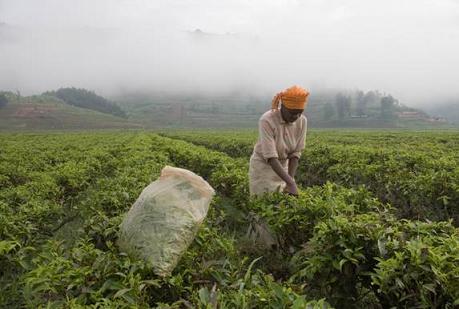 Africa is perhaps the place where the power of Mother Nature is felt more strongly than anywhere else. Glaring sun can scorch the earth and cause droughts, giving a small chance for any life forms to survive, while abundant natural resources enrich the same life on the continent, where humankind is said to originate. It is no surprise that primary products such as dairy, minerals and oil are the main trading items and contributor to the current growth of Africa. Over the 2000-2009 period, Sub-Saharan Africa recorded its strongest and long-lasting growth since the 1960s (annual GDP growth rate of 5.6% on average). Yet, that hasn't been enough to get it out of the poverty cycle and the region remains one of the least developed areas of the world. In the meantime, China, which has officially replaced Japan as the world's second largest economy, is gaining recognition as a prominent trade partner of Africa. According to JICA-RI's research fellow Jean-Claude Maswana, China represented only less than 2% of Africa's export market in 1990, but the figure grew to 15% in two decades. The pace of the increase is the fastest to be seen in the Africa's economic history and the impact is significant. A golden opportunity for further development may lie here if African countries can learn from China's experience and prepare themselves to catch the wave.
Maswana, who leads the JICA-RI's research to explore areas of potential drivers of growth for African economies, recently attended a China-DAC study group event in Addis Ababa, Ethiopia, and was one of the presenters who gave a presentation before a 100-plus audience. The gathering was jointly organized by the International Poverty Reduction Centre (IPRCC) of China, the Organisation for Economic Co-operation and Development's Development Assistance Committee (OECD-DAC) and the African Union on February 16th and 17th, 2011. Participants, including officials from China, African countries and OECD member states, and experts in relevant fields, exchanged views on the theme of enabling environment for enterprise development in Africa.
In a preliminary paper titled "Emerging Patterns in Sino-African Trade and Potentials for Enterprise Development" which the presentation was based, he closely examined diverse trading patterns to identify Africa's export competitiveness and trade opportunities that are being opened up in each of its export products. Specifically, the study employed multiple analyzing approaches to understand how its exports react to and engage in the fast-changing trade flows with China in particular and overall Asia. Using China's trade dynamics with developed Asia (e.g. Japan, Korea and Hong Kong) as well as with developing Asia (e.g. Cambodia, Indonesia and Malaysia) as references, Maswana shared his findings, which include the following:
Firstly, despite the rapid increase of trade volume, the pattern of African trade with China has not departed from its traditional dependence on primary commodity exports. So far it has failed to inspire the incorporation of added-value concept into the economic activities or production chains.
The analysis has also reconfirmed the mechanisms of China's rise, where it imports parts and components of goods such as transport equipment from developed Asia, assembles them and exports as finished products. By playing a role in an assembly line of the global value chain, China has successfully achieved a remarkable economic growth, and is developing further due to accumulated knowledge and technologies.
Lastly, raw materials are still the leading items Africa trades with most of the world but its share in exports in parts and components is rapidly increasing to developing Asia, EU and North America. This suggests that there exist major potentials for Africa to grow, if it can boost manufacturing industry and promote labor-intensive products.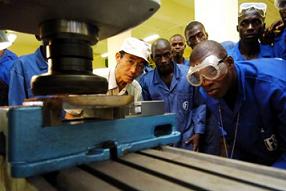 (Above) JICA advisor giving advice to students at a vocational training center in Dakar, Senegal.
(2005. Kenshiro Imamura/JICA)

(Top) Farmers plucking tea at a farmin Tumba, Rwanda. Tea is the second largest agricultural produce next to coffee in Rwanda and is considered the highest quality.
(2007. Atsushi Shibuya/JICA)
Of course, nothing can be achieved without skilled workers. Skills can be advanced by various means, among them is through foreign direct investment brought by multinational firms. Maswana illustrates: "If a global company like Sony or Toyota builds a factory in Africa, their demonstrations and trainings can provide hands-on-training opportunity and technology spillovers." He adds; "The only way to develop is to strengthen labor skills, which will make Africa more competitive. And that is where donor countries such as Japan can further focus their assistance."
One critical factor to keep in mind is to analyze data both with and without South Africa. Figures can be misleading without this consideration since South Africa alone takes up nearly 50% of the Africa's GDP and is the driving force of the continent's economic expansion.
Understandably, the ideal future scenario for Africa is that it becomes the hub of a next economic miracle, Africa winning fierce competitions against developing Asia, China and even developed Asia and Europe. A transformation cannot be achieved overnight, but Maswana believes it can start from simple technology like bicycle-manufacturing. "Technologies don't jump. You upgrade step by step," he explains.
The following few years would be crucial for African countries if they are to take advantage of the opportunity and to grow, as no economic boom lasts forever. Whether Africa can capture the moment and leap into the global market depends largely on their own efforts, but JICA and other development organizations' effective support can greatly contribute to their endeavor.
*The outcome of this research will be published as a working paper later this year.
**Read more on this topic. [Link to the working paper No.19 "Will China's Recovery Affect Africa's Prospects for Economic Growth?"]
Related Research Area: Growth and Poverty Reduction
Day
February 16, 2011(Wed) - February 17, 2011(Thu)

Place
Addis Ababa, Ethiopia
Organizer
the International Poverty Reduction Centre (IPRCC) of China, the Organisation for Economic Co-operation and Development's Development Assistance Committee (OECD-DAC) and the African Union
Inquiry
JICA-RI Research Program Div.
TEL: +81-(0)3-3269-2357 FAX: +81-(0)3-3269-2054