JICA-RI's research project, "Locating Islam in Southeast Asia," focuses on how various Islamic societies in Southeast Asia, which are undergoing changes from recent globalization, have influenced the situation of their respective regions. At the "Islam and Peace in Southeast Asia" open symposium held on July 28, the project members presented their findings to the public and participated in a panel discussion as well.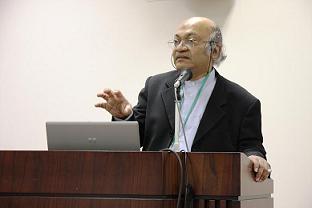 Dr. Chaiwat Satha-Anand
Chaiwat Satha-Anand, a professor at Thammasat University, stated that in recent years, even "sacred places" such as mosques and temples have become the target of violent attacks, and that the conflicts involving Islam have been growing increasingly violent around the world. Furthermore, he acknowledged that at the root of various religious issues lie politics and economic disparity. Chaiwat pointed out that, although religion is used to justify one's assertion of violence, religion itself has never been a direct cause of violence.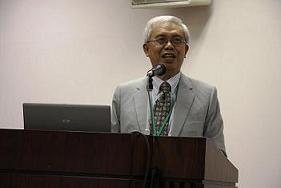 Datu Michael Mastura
Having been directly engaged in negotiations for the peace process in Mindanao as a panel member of the Moro Islamic Liberation Front, Datu Michael Mastura explained the complex situation of the peace process. He added that Japan has participated in the international monitoring team as well as the international contact group that includes NGO members, and that, as an implementation agency for Japan's official development assistance (ODA), JICA has been providing assistance to Mindanao since the early stages of the peace process. Such diverse contributions made by the international community will be a great help in solving the problem, he believes.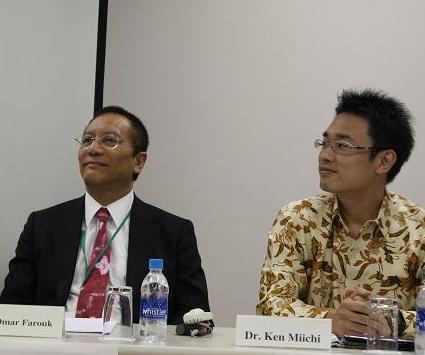 Dr. Omar Farouk and Dr. Ken Miichi
In the panel discussion that followed, Omar Farouk, a professor of Hiroshima City University, said that Chaiwat's and Mastura's opinions were extremely valuable, coming from practitioners in the peace process. He stated that in the wake of the 9/11 terrorist attacks, the international community has begun to pay closer attention to Islamic society. However, there are still many potential problems. These are issues that the whole world must address, he stated. Ken Miichi, JICA-RI Visiting Scholar and an associate professor at Iwate Prefectural University, using an example of Muslim-majority Indonesia, spoke on three issues: clarification of actors of violent conflict, third party intervention in the peace process, and how democratization affects the Islamic community. The discussion ended with great expectations for intervention by the international community, especially through development cooperation from JICA and other organizations.
Through the symposium, the participants shared the importance of understanding conflicts with a focus on regional political and economic issues, not on simple patterns of religious conflicts. In order to solve these problems, political and economic measures are necessary, along with intervention and monitoring by the international community as well as assistance such as ODA.
All findings from this project will be compiled into a book to be published next year. The discussions of this symposium will be used not only in the book, but also by JICA's operations, including its efforts toward the peace process.
RELATED RESEARCH AREA: Aid strategies
RELATED RESEARCH PROJECT: Locating Islam in Southeast Asia
MOVIE COMMENTARY
Ken Miichi, JICA-RI Visiting Scholar and an associate professor at Iwate Prefectural University
■Program
10:00 Opening Remarks: Mr. Hiroshi Kato (Deputy Director, JICA-RI)
10:10 Speakers
• Dr. Chaiwat Satha-Anand
(Professor, Thammasat University, Thailand)
• Datu Michael Mastura
(Lawyer, Mindanao Peace Process, Moro Islamic Liberation Front Panel Member)
11:00 Panel Discussion
Chair: Dr. Masato Iizuka
(Professor, Tokyo University of Foreign Studies)
Panelists:
• Dr. Chaiwat Satha-Anand
• Datu Michael Mastura
• Dr. Omar Farouk
(Professor, Hiroshima City University)
• Dr. Ken Miichi
(Visiting Scholar, JICA-RI / Associate Professor, Iwate Prefectural University)
12:00 Q & A
12:30 END
| | |
| --- | --- |
| Day | July 28, 2010(Wed) |
| Place | JICA-RI |
| Organizer | JICA-RI |
| Related File | |