On November 29, 2010, the "Fourth Seoul ODA International Conference" was hosted by the Ministry of Foreign Affairs and Trade of the Republic of Korea and the Korea International Cooperation Agency while the "Workshop on the Evolving Global Aid Architecture" was convened also by the Ministry of Foreign Affairs and Trade of the Republic of Korea with support of the Ministry of Foreign Affairs of Japan from November 30 - December 1. Both events, held in Seoul, were organized as part of the preparation process for next year's Busan High Level Forum for Aid Effectiveness (HLF-4) which aims to establish a framework for international aid after the Paris Declaration on Aid Effectiveness (see footnote)., Director Keiichi Tsunekawa, senior research fellow Akio Hosono, and research associate Ryutaro Murotani attended from JICA-RI..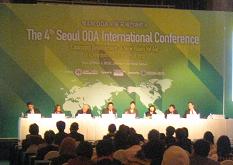 In his opening remarks at the ODA Conference, Dr. Tsunekawa stressed the importance of not only achieving the MDGs – the Millennium Development Goals (goals for fields like poverty and education, among others, to be achieved by 2015) -- but of sustaining efforts for stronger development and of agreeing on a new aid framework at Busan HLF-4. Meanwhile, Dr. Hosono led the discussions by giving a presentation titled "Capacity Development (CD) for Efficient Development" at the ODA Conference and another called "Knowledge Exchange through South-South Cooperation" at the Workshop.
JICA-RI believes CD is essential in achieving the MDGs and that it should be the mainstream in aid discussions. To promote the significance of CD, Dr. Hosono introduced JICA projects that incorporate the CD process. These included the South Sulawesi Province Regional Development Program in Indonesia and the School for All project in Niger, as well as the case of dispatching engineers to Bangladesh's rural villages to identify local infrastructure needs.
Dr. Hosono outlined five crucial factors for strengthening CD in developing countries: stakeholder ownership, frameworks for maintaining CD, mutual learning and problem solving, strategies for scaling up good practices, and donor support.
In the session on South-South cooperation at the Workshop, Dr. Hosono shared his research findings on knowledge exchange through South-South cooperation. "While western donors insist that South-South cooperation (exchange of resources, technology, and knowledge between developing countries) is a new approach, Japan has been promoting this concept since 1975. We are still doing so, applying our more than 35 years of experience," he noted.
As an example, he discussed JICA's Third-country Training Program, which supports South-South cooperation. With this program, it is an emerging donor rather than Japan that accepts trainees from other developing countries, and staff from the same country also serve as instructors. JICA is actively promoting this scheme as part of its triangular cooperation effort -- a way of cooperation which a developed country provides assistance to South-South cooperation. There has been a consistent increase in the number of trainees for this program since fiscal 1975, and it took in over 4000 trainees in fiscal 2008 alone, a level of success that can rarely be seen in Western countries.
A well-known example of South-South cooperation is the agricultural development project led by Japan and Brazil in Mozambique. There is a long history of partnership between Brazil and JICA in the agricultural development of Cerrado, a tropical savanna in central Brazil. JICA's assistance helped transform the once-barren Cerrado into a major production base for soybeans and other agricultural produce.
Drawing on this experience, Brazil has teamed up with Japan – this time as a donor – to assist with the ProSAVANA program, an agricultural development program for Mozambique's tropical savanna.
Being former colonies of Portugal, Brazil and Mozambique share the same official language – Portuguese – as well as similar characteristics in their natural environments. Therefore Japan can expect successful results by teaming up with Brazil rather than assisting on its own.
Dr. Hosono emphasized the advantages of South-South and triangular cooperation: "The Paris Declaration only regards South-South cooperation as a complement to South-North cooperation; assistance for developing countries by developed countries. But there are numerous arguments against this placement, with criticism coming from emerging donors, as well." He also said that "South-South cooperation, with an emphasis on CD, contributes to the diversification of assistance methods, which leads in turn to creating more possibilities for new innovation."
(Footnote) The Paris Declaration was adopted in 2005 at the Second High Level Forum on Aid Effectiveness, in Paris, France. It outlines specific measures that recipient countries and donor countries must carry out to increase aid effectiveness.
Day
November 29, 2010(Mon) - December 01, 2010(Wed)

Place
Seoul, Korea
Organizer
Ministry of Foreign Affairs and Trade of the Republic of Korea
Korea International Cooperation Agency (KOICA)
supported by Ministry of Foreign Affairs of Japan