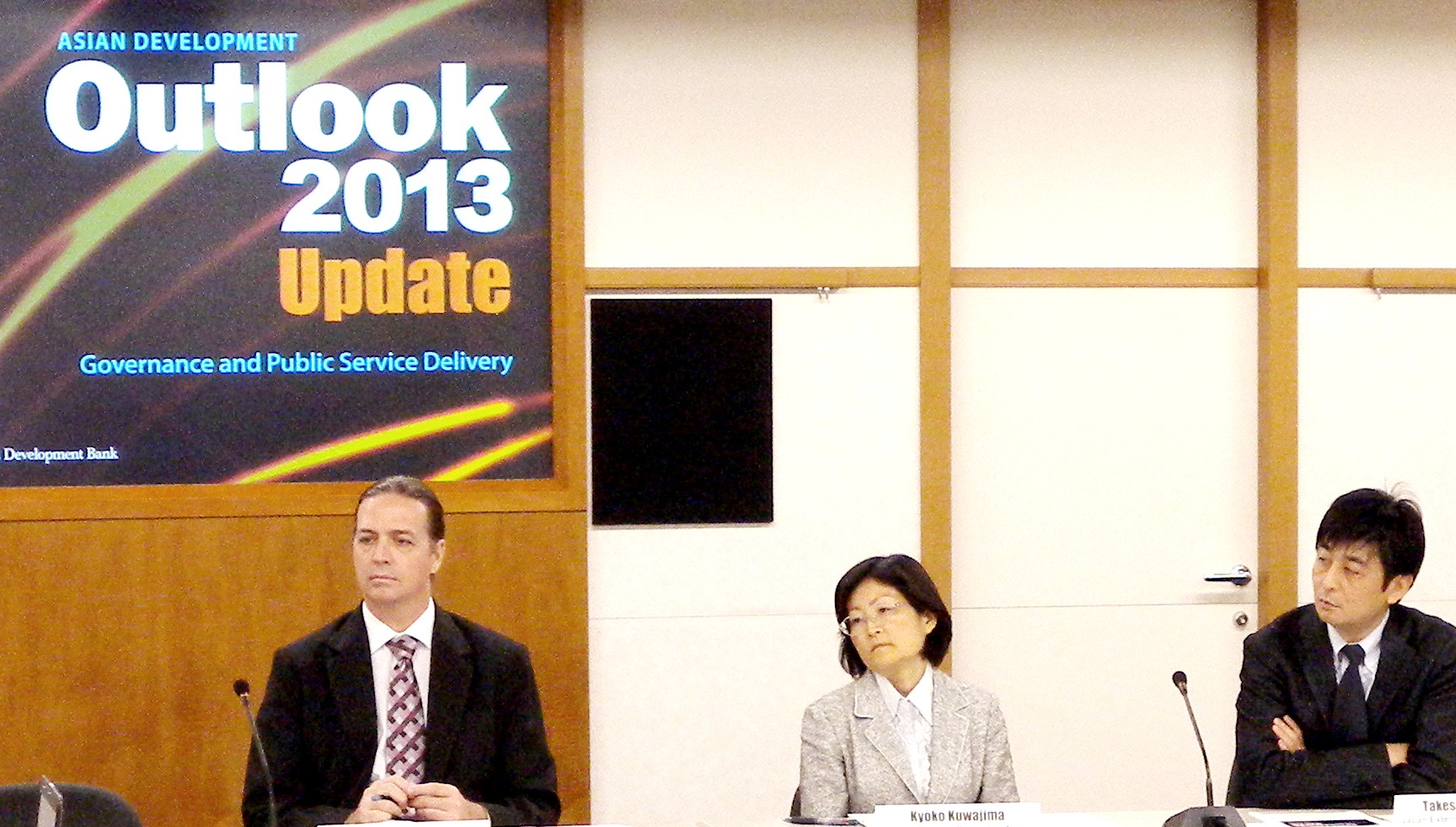 ADB Assistant Chief Economist Dr. Zveglich(left),
JICA Visiting Senior Advisor Kuwajima(center),
Insutitute of Developing Economies
Senior Research Fellow Kawanaka(right)
On October 31, a governance report consultation was jointly organized by JICA-RI and the Japanese Representative Office of the Asian Development Bank (ADB) at the ADB Institute in Tokyo.
The event aimed to exchange views highlighting governance reform in the Asia-Pacific region, based on the report titled "Asian Development Outlook Update 2013" that ADB released in October. Inviting Dr. Joseph Ernest Zveglich, Jr., Assistant Chief Economist of ADB, who is in charge of the report, the consultation brought together 15 participants including Japanese experts and officials of JICA and ADB. From JICA-RI, Deputy Director Naohiro Kitano, Research Fellow Ryutaro Murotani, and three other officials attended.
In his opening remarks, Mr. Tomomi Tamaki, Representative of ADB Japanese Representative Office, introduced ADB activities as well as the objective of the meeting prior to the consultation.
Without a break, Dr. Zveglich, outlining the report, presented his view: "While governance matters for growth and development, Asia's progress in closing the governance gap with advanced economies lags its economic achievement. Improving public service delivery can be an effective entry point towards a wider range of governance reform."
Subsequently, JICA Visiting Senior Advisor Kyoko Kuwajima and Institute of Developing Economies Senior Research Fellow Takeshi Kawanaka commented Zveglich's presentation.
Professor Kuwajima stated that the report carefully includes a range of governance indicators taking their respective advantages and disadvantages into account in analyzing the correlation between governance and development. She continued that the regression analysis indicates a diversity of governance in Asia region and improves governance in ways that respect such diversity and accommodate historical and social context within the region. She, however, pointed out the gap-filling approach focusing on narrowing the governance gap between Asian states and OECD countries, set as a benchmark, could be irreconcilable with the approach based on the governance diversity of Asia region. She also agreed with Dr. Zveglich's point that focusing on a public service delivery is a realistic and practical way for better governance and articulated the importance of thematic case studies to identify the effective ways to deliver services.
Senior Research Fellow Kawanaka, meanwhile, argued that governance should not be treated as one single issue, but instead, should be divided into two elements, namely state capacity and democracy. He also referred to the need for understanding the sequence of establishing "governance" as a transition from state capacity development to democracy consolidation, along with the importance of focusing on the political context and social structure.
Lastly, an active exchange of views with the floor followed the above comments. Kitano closed the consultation, stating that JICA-RI will keep promoting cooperation and collaboration with ADB.
| | |
| --- | --- |
| Day | October 31, 2013(Thu) |
| Place | ADB Japanese Representative Office, Tokyo |