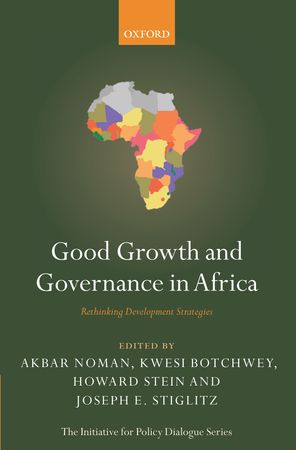 "Good Growth and Governance in
Africa: Rethinking Development
Strategies" Oxford University Press
On April 9, a special symposium was held at the United Nations Headquarters to celebrate a launch of the book titled "
Good Growth and Governance in Africa: Rethinking Development Strategies.
" This book is a product of joint research between JICA-RI and Professor Stiglitz, co-president of the IPD, on economic growth and development in Africa since 2008. JICA-RI Director Akio Hosono and Research Program Division Director Go Shimada attended this event.
Mr. Jean-Francis of Zinsou, Permanent Representative of the Republic of Benin to the United Nations and Mr. Tsuneo Nishida, Permanent Representative of Japan, who co-hosted this symposium, made opening remarks to commence the panel discussion.
In his remark, UN Ambassador Zinsou expressed his appreciation for Japan's support in Africa. UN Ambassador Nishida referred to Japan's contribution to the development in Africa through TICAD, hoping that this event would be of great help to the future development in Africa.
More than 150 UN officials, diplomats (many from African nations such as Tanzania, Ethiopia, Gabon, and Cameroon) and others attended, exchanging heated opinions past the scheduled time period.
Mr. Cheick Sidi Diarra, Under-Secretary General and UN Special Advisor on Africa, serving as a moderator, expressed his hope that the new approaches in this book would help reduce the poverty in Africa.
Mr. Diarra then introduced four distinguished panelists: Professor Stiglitz and Professor Akbar Noman, the editors of this book, Professor Yaw Ansu of African Center for Economic Transformation (ACET), and JICA-RI Director Akio Hosono.
Each panelist highlighted an aspect of development in Africa such as the current economic situation, new approaches to rethink economic growth, the need to allow a policy space to formulate and implement these new approaches, and Japan's aid to Africa, respectively.
Professor Noman, touching on the current African reality, pointed out that the support and the direct investment in Africa didn't lead to real industrialization and that the discussion at the "East-Asia Miracle" would positively influence the development in Africa.
Professor Ansu argued for the need to bring back the states to the discussion table for economic policy, and also emphasized that Africa needed leaders to redirect its economic transformation.
Professor Stiglitz, referring to the joint research between JICA-RI and IPD, explained that this was an unusual collaboration that involved a wide variety of people, including policymakers such as Prime Minister Meles Zanaewi from Ethiopia, researchers, and aid-workers. He also pointed out that the essence of development in East Asia was the "notion of learning" and that "shared growth" in East Asia was different from the growth in other regions. He closed his presentation by adding that Japan had multiple impacts on the growth in East Asia and that governments played a pivotal role in the development in the region.
In his presentation, Dr. Hosono touched on the background of the publication of the book, explaining that the three main events in 2008 – TICAD IV, the G8 Hokkaido Toyako Summit, and the IPD Task Force for Africa conference in Ethiopia – all triggered the joint project with Professor Stiglitz. He also presented the outcome of the industrial policy dialogue between JICA and Ethiopia which started in 2009, and JICA's "Kaizen" (continuous improvement of productivity and quality) approach to support the development of small and medium-sized private companies in Ethiopia.
Dr. Hosono, along with the UN symposium, also visited the UNDP to hold an internal presentation on South-South Cooperation in the presence of Mr. Yiping Zhou, Director of the South-South Cooperation Special Unit, and Ms. Sigrid Kaag, Director of the UNDP Partnership Bureau. His presentation focused how to pursue mutual co-operation, using some specific cases on this theme.