JICA-RI held an open seminar entitled "Gender and International Development in Education: Agendas and Challenges" on May 28.
This seminar was held to commemorate the publication in April of the book by the same title, and featured presentations by the three editors and authors as well as Research Fellow Takako Yuki, Visiting Fellow Kazuo Kuroda, both from JICA-RI, and Keiko Mizuno, JICA Senior Advisor. The presentations focused on gender and education, using case studies.
After the opening remarks by JICA-RI Director Akio Hosono, each editor gave a presentation on the theme of "Trends and new issues in gender and international educational development," covering the background history, the current situation, and future agendas.
First, Dr. Chizuko Nagaoka of Hosei University touched on the background and the objective of the book. She noted that whereas the elimination of gender disparity in primary education by 2005 in both the 2000 "Dakar EFA Framework for Action" and "the Millennium Development Goal(MDGs), as well as the "Education For All (EFA)" adopted in 1990, have shown a certain result, 58 out of the 86 countries where it has not been achieved are predicted to be unable to reach this goal even by 2015. Behind this lies the fact that the majority of children who do not attend school are concentrated in specific regions and countries with significant internal disparities.
Considering these situations, Dr. Nagaoka addressed that it was important to contribute to achieving gender equality in Goal 3 of the MDGs and Goal 5 of EFA through gender mainstreaming in education, along with access to education.
Ms. Koto Kanno of Mejiro University, the next presenter, reflecting her own field experience, posed a question: why education for girls has not become widespread, despite the activities of governments, NGOs, and other organizations, and despite regional and international networks. In response to this, she explained, "The approach known as "scaling up" of education for girls has recently received attention as an effective strategy. This "scaling up" refers to the necessity of reviewing every aspect of educational systems with a gender-equality viewpoint." She also pointed out, "It is essential to enhance the awareness and ability of officers in governments and local authorities who act as mediators between schools and policy decision-makers."
Dr. Mikiko Nishimura of International Christian University raised the following five findings from the book.
1. It is difficult to establish gender equality in education, without considering the overall social framework and values. If gender inequality and discrimination are reflected in school curriculums, teachers' attitudes, and school facilities, the school itself will be the place to reproduce an inequality. We, therefore, should take a critical review of the school education.
2. Gender inequality in education is closely associated with the factors such as poverty, race/ethnicity, and caste system. Gender is not just an issue of comparison between men and women. It needs to be considered as part of intricate and multi-stratified identity.
3. Measuring educational achievement by quantitative scales such as school attendance and literacy rate makes gender gap more complicated.
4. We need to verify the effectiveness of the cross-border networks and attempts linked with gender and international development in education. The Asian University for Women (AUW) in Bangladesh that aims to train global-minded women leaders is a good example. We have to use a fresh perspective and see how this approach has an impact on gender equality in the labor market or on the existing national education systems.
5. Taking another critical look at the social functions of education is important. Specifically, we need to ask questions again: whether any biases exist in the knowledge taught at schools, whether the educational privilege goes to only certain groups, and what the point is in having everyone to go to school.
Lastly, as the message of this book for the Post MDGs, she mentioned the necessity of a paradigm shift, the goal of which pursues gender equality in a quantitative and qualitative sense. It is the shift from an access-centered approach focusing on eliminating gender gap in numerical terms such as school attendance rates and literacy rates, to an approach to eliminate the structural and fundamental factors of gender inequality or discrimination with focusing on the change of the traditional gender roles and the stereotypical way of thinking of men and women.
JICA Senior Advisor Keiko Mizuno made a presentation on the theme of "Approaches and new possibilities in eliminating gender disparity in Japanese cooperation in education." She noted that Japan had sent a message of the importance of eliminating the gender gap at home and abroad. She also pointed out that in overall aid policies, the technical cooperation projects in basic education since 2000 have dramatically expanded through local bottom-up approaches.
Dr. Mizuno introduced a case study of the education for girls in Guatemala, explaining her experience in setting up the first Japanese cooperation of girls' education, incorporating the WID (Women in Development) concept in the US-Japan Common Agenda in 1993.
The objective of this project is to promote primary education with considering multi-ethnic, multi-lingual and traditional gender roles in Guatemala. Dr. Mizuno's team has tackled the elimination of gender disparity taking account of school, household and educational administration factors.
She also touched on the three-year project in Yemen that aimed to promote girls' education by 2008, referring to the results of how those persons concerned such as religious leaders, guardians and headmasters and others changed in their attitudes.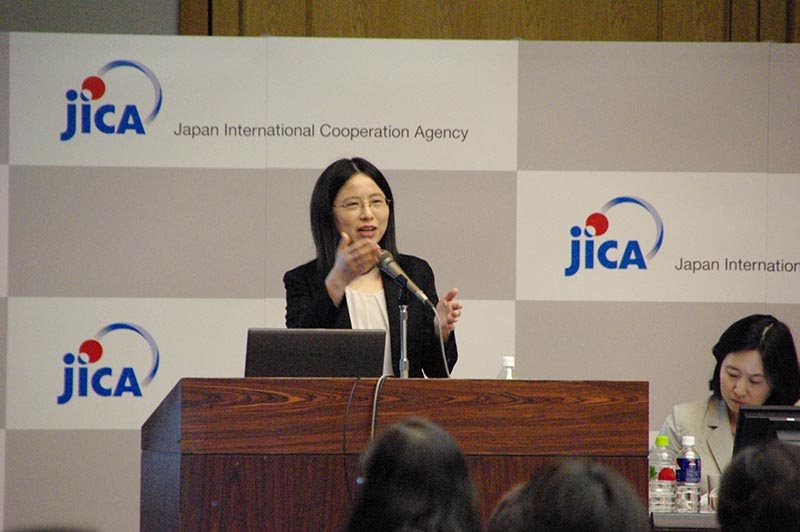 Research Fellow Takako Yuki
Research Fellow Takako Yuki, the JICA-RI Yemen research project team leader, presented an interim report on the Yemen case study. Research in Arabian countries including Yemen encounters a number of difficulties due to language and unstable social factors, which hinder researchers to conduct local survey. This research, therefore, is precious for Japan and international arena as well.
The team has been working on the research that focuses on the comparison among those regions and schools where the redress of gender disparity has been highly achieved. The research team is scheduled to advance the analysis within this fiscal year, and to present them some time the next year. (For the details of this survey, visit the Newsletter No.36 on our website)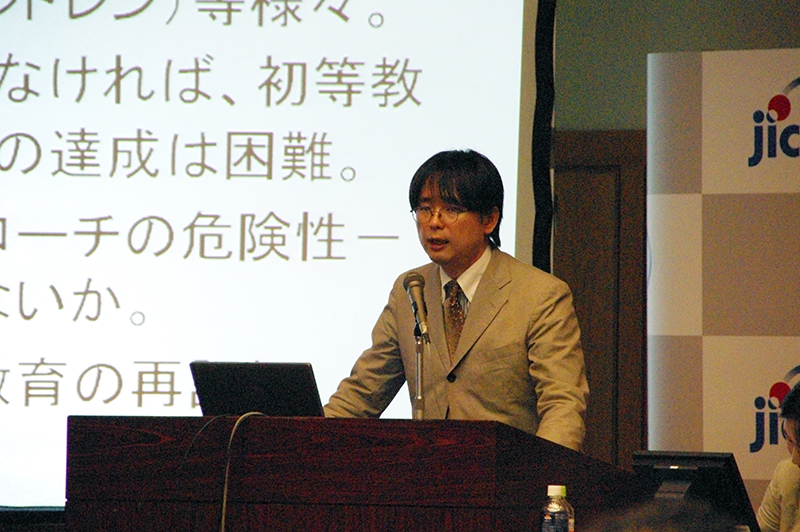 Visiting Fellow Kazuo Kuroda
The last presentation was given by JICA-RI Visiting Fellow Kazuo Kuroda (professor at Waseda University). Dr. Kuroda pointed out that the current situation of the educationally disadvantaged group such as girl and women, ethnic minorities and persons with disability need to be taken into consideration in order to achieve the universalization of primary education as well as the elimination of gap to access. He, at the same time, stressed the importance of a paradigm shift from educational outputs to outcomes in the Post EFA issue, along with the shift from the quantitative education to qualitative one.
The seminar saw not only women but men in a wide range of participants including practitioners, researchers and students in the field of gender and education.
| | |
| --- | --- |
| Day | May 28, 2012(Mon) |
| Place | JICA Research Institute |