The Organisation for Economic Co-operation and Development (OECD) and the Ministry of Foreign Affairs of Portugal co-hosted the meeting titled "Policy Dialogue on Triangular Cooperation" on May 16 and 17 in Lisbon, the capital of Portugal. JICA-RI Director Hiroshi Kato gave a presentation on the features of Triangular Cooperation (TrC) that Japan has been engaged in. TrC refers to an approach that a developed country offers support and cooperation for South-South Cooperation (SSC), in which comparatively advanced developing countries assist other developing countries.
In recent years, the United Nations and other international organizations have taken the lead in promoting dialogue on TrC. This event brought together about 60 participants, including Chair of the Development Assistance Committee (DAC). The meeting aimed to exchange opinions among practitioners of TrC, as part of OECD research to verify what constitutes 'good' TrC.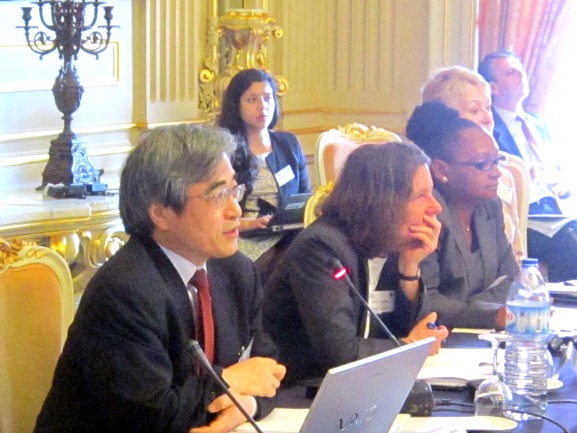 Director Kato gave a presentation
The event was divided into five sessions; in the second session entitled "Sharing experiences on triangular co-operation," Kato gave a speech on TrC for development result. He argued that an ideal TrC should strive to realize the development outcomes, with explaining features and experiences of JICA's TrC. He went on to say that it should support processes in which knowledge and skills—hard to obtain through other aid approaches—are shared and created. He furthermore stressed the importance to assist the process over the long-term in which developing countries, i.e., beneficiaries of TrC, apply and expand the newly-acquired knowledge in the field. His presentation was based on JICA-RI's efforts for systematically analyzing the cases of SSC/TrC since last year
In the wrap-up session, upgrading monitoring and evaluation systems of TrC, as well as organizing statistical data were stressed. During the session, it was announced that JICA-RI is working on a booklet, compiling of case studies on TrC ahead of the Global South-South Development Expo this October—co-sponsored by the United Nations Office for South-South Cooperation and the United Nations Environment Programme headquartered in Nairobi. The idea of producing a volume, a compilation of diverse experiences of TrC from a wide range of agencies, attracted the participants' attention
Voices were also heard that TrC should be taken up for debate at the ministerial-level meeting of the Global Partnership scheduled early 2014. Japan stressed the significance of SSC in the revised ODA Charter 2003 and has a long-standing history of implementing TrC as a means to promote SSC. In light of this achievement, JICA-RI has placed the importance on the analyses of case examples of TrC as an important research theme since last year to accumulate knowledge to contribute to future international debates.
| | |
| --- | --- |
| Day | May 16, 2013(Thu) - May 17, 2013(Fri) |
| Place | Lisbon, Portugal |